MANAGEMENT
Presented and organised by ECR 2009 and European Hospital
Reforming the Viennese hospital structure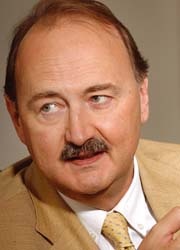 Professor Wilhelm Marhold is General Manager of the Wiener Krankenanstaltenverbund (KAV – Vienna Hospital Association), one of Europe's biggest health institutions. It unites 12 hospitals and 11 centres for geriatric medicine. The Vienna hospital concept aims to achieve regional balance of medical care in that city. The new North Hospital is the core. 'The Vienna hospital reform project is concerned with enhancing efficiency and achieving a synergy of the existing facilities,' he explains, adding that new tasks and new identities for old hospital sites instead of the uncreative act of closing hospitals is the motto.
The Floridsdorf Hospital, Semmelweis Women's Clinic and the Gersthof Orthopaedic Hospital will move in entirety to the new hospital. The departments of heart surgery, cardiology, and parts of neurology from Hietzing hospital will go to the new North Hospital. Hietzing hospital will be transformed into a modern clinic for common diseases (e.g. stroke, diabetes, rheumatism) and will continue to offer cardiac care as part of its internal-medicine services.
Otto-Wagner-Spital will remain a specialist hospital for orthopaedics, psychiatry, neurology and pulmonology. Sections of the departments of pulmonology and chest surgery, and psychiatry, will transfer to the North Hospital. The goal is to achieve further regionalisation and tend to psychiatric patients in specialist hospitals. A part of Wilhelminenspital's paediatric department will move to the North Hospital. Additional beds will be provided at the new location for paediatric and adolescent psychiatry as well as trauma surgery.
The new hospital will be built by 2013 in the north Vienna and will provide 842 beds, in single or double rooms. It will be operated as a specialist hospital. The aim of this concept is to expand hospital structures in keeping with the demographic development of the city and simultaneously transfer or close down old hospital. Thus hospitals with specific points of focus will be created, and optimised operating cost structures achieved.