Immunoassays • Zybio Inc.
EXI1800 Chemiluminescence Immunoassay Analyzer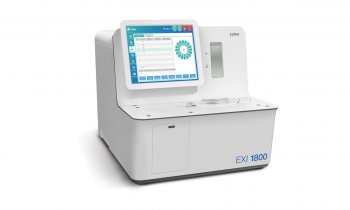 Dimensions: 650 × 790 × 650 mm (w × d × h)
Weight: 110 kg
Sample throughput: up to 180 tests/h
Assays: Comprehensive test menu covers SARS-CoV-2, thyroid, fertility, inflammation, cardiac markers, diabetes, tumor markers and more
Highlights:
EXI 1800 is a desktop automatic chemiluminescence immunoassay analyzer with compact design which only needs 0.52 m2. With its patented magnetic separation technology, EXI1800 can effectively guarantee the precision and sensitivity of detection. It uses enzymatic chemiluminescence technology, labeled with ALP. The detection speed of EXI 1800 is 180 t /h. Its large consumable capacity contributes to the longest off-machine time, which is up to 3 hours. Easy maintenance system can do trouble shooting with one tap. The analytical module used on EXI1800 is a touch screen PC embedded with Window 10 operating system and user-friendly software, which makes your operation a lot easier.