Workflow improvements with thin client PACS
High-resolution tomographic scanners and other 3-D technologies provide a number of compelling advantages for diagnostic medical imaging.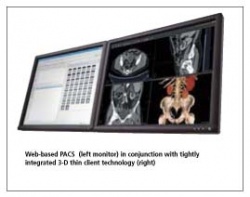 Dr Hartmut Schirmacher, Manager of Life Sciences Applications at Mercury Computer Systems, in Berlin, relates how PACS with tightly integrated thin client technology improves diagnostic workflow throughout a healthcare enterprise
3-D modalities, such as CT and MR, are creating ever-larger data volumes, increasing the need for faster, bigger servers, higher network bandwidth, workstations with large memory and fast graphics, and advanced diagnostic software. Furthermore, the gap between the amount of information in the original data and 2-D report images sent to clinicians and referring physicians is growing steadily. Radiology departments and 3-D technologists expend significant effort to generate multiple series of reformatted images, cine loops, and standardised 3-D views to document and communicate diagnostic findings. Still, physicians outside the radiology department often want the flexibility to review the original data in addition to the diagnostic report.
Deficiencies of current PAC systems and workstations
Currently, many hospitals have a centralised PACS along with a number of loosely integrated 3-D review and post processing workstations. Data is sent from the modalities to the PACS, then forwarded to (or pre-fetched by) selected workstations. Radiologists and specialised technologists review the images on these workstations, and a multitude of key views or processed images is generated and sent back as snapshots and cine loops to the PACS and selected recipients.
This 'isolated workstation' paradigm has many problems: original data is not always available where needed; significant time is spent sending original and processed data between different workstations and servers; additional quality control is needed to ensure all generated diagnostic images are correctly archived and transferred to all recipients; user preferences are lost when switching to a different workstation; workstation hardware is often too slow or has not enough memory for efficient review of large 3-D studies; software versions and optional application packages are not consistently available across workstations; and referring physicians and clinicians can only review snapshot images, but cannot use these as bookmarks into the original data.
Advantages of the thin client paradigm

The key differentiator of a thin client PACS (PACS with tightly integrated 3-D thin client technology) is a true central 3-D processing paradigm, along with efficient streaming technology to enable thin clients to act as fully capable front-ends to all viewing and processing functions of the PACS. All DICOM data remains on the server (no data transfer prior to launching the 3-D viewer), all operations are performed directly on the server, and all functions can be accessed instantly from anywhere in the enterprise via thin clients.
Since data is no longer sent back and forth explicitly, the time required for data transfer and quality control is reduced. Network resources are used more evenly throughout the workflow; peak bandwidth problems are effectively eliminated. Time and expense for maintaining data and software consistency are greatly reduced thanks to central servers and web-based deployment.
Users can work with the same software consistently throughout a hospital, and user-specific settings e.g. hanging protocols, are available everywhere.
Thin client PACS can be accessed anywhere, including off-site locations. The PACS allows gaining full control over (and tracking of) image access and workflow, and a hospital could even become a viewing service provider to off-site users.
Clinical applications on thin clients

Modern PAC systems can provide the ability to plug in specialty and clinical applications, e.g. PET/CT viewing, CT cardiac analysis, virtual endoscopy, etc. If these are truly integrated thin client applications, workflow improves across the borders of different modalities, specialties, and groups.
PET/CT viewing on thin clients, for example, simplifies fusion of data from different modalities in radiology and nuclear medicine, and effectively removes technical barriers for obtaining second opinions from different departments (e.g. oncology, radiology). CT and PET data can be consistently archived and viewed separately or as fused images. Current and prior studies from different modalities can be reviewed conveniently and efficiently in a unified workflow.
CT cardiac analysis is another excellent example in which a thin client-based approach allows radiology and cardiology departments to share image data. Both can review 3-D and 4-D cardiac data in similar fashion and share key images for easy navigation to relevant views. A radiologist can effectively use the 3-D navigational capabilities of volumetric cardiac CT to identify suspected abnormalities, and it provides a cardiologist with vessel analysis tools to detect and quantify coronary artery stenosis, and quantitative analysis of the left ventricle, including wall motion/thickening, and ejection fraction. Even if a cardiologist works between different modalities and labs, all images and analysis results can be reviewed anywhere, and side by side with other data, e.g. angiograms or echocardiograms, whereby proper integration with the cardiovascular image management system is achieved.
Conclusion

From the hospital's point of view, a thin client PACS with clinical applications removes technical barriers between different modalities and departments, creates a much more homogeneous and manageable IT infrastructure, and helps to exploit existing modality and workstation equipment and other IT resources. For medical personnel, the thin client PACS provides a significant increase in productivity and flexibility through instant access to all diagnostic image data anywhere, anytime.
Further details:
www.mc.com
. Contact:
hschirmacher@mc.com