Welcome to Vienna's 'international summit of sonography'
WFUMB 2011
Extending a welcoming greeting to international delegates to the 13th World Congress of the World Federation for Ultrasound in Medicine and Biology (WFUMB), Congress Presidents Michel Claudon (WFUMB President), Gerhard Mostbeck (Chairman of the Organising Committee) and Christian Nolsøe (EFSUMB President), pointed out that this year's congress in Vienna '…is a unique cooperation with the 35th Joint Meeting of the Austrian (ÖGUM), German (DEGUM) and Swiss (SGUM) Societies for Ultrasound in Medicine as well as the 23rd Congress EUROSON of the European Federation of Societies for Ultrasound in Medicine and Biology (EFSUMB).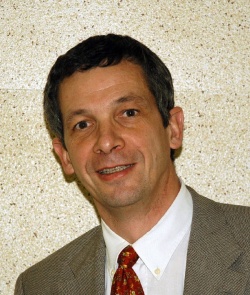 The trio also refers to the 'exciting educational programme', explaining that this '…covers the entire gamut from fundamental applications of medical ultrasound, which you probably know from your clinical work, down to visions of ultrasound imaging that might sound like science fiction today but may well be reality tomorrow. State-of-the-art ultrasound offers more technological innovations than ever before,' they point out, 'a fact that will re-define the significance of this modality in the orbit of diagnostic and interventional imaging. To name but a few: elastography and the next generation of contrast-enhanced ultrasound will open up vast new territories, above all in oncological ultrasound applications. Moreover, the very sad events at the nuclear power station in Fukushima have re-kindled the interest in ultrasound as a radiation-free alternative to radiation-based X-ray modalities.'

Interdisciplinary – it's ultrasound's major strength
'We pride ourselves to be the medical imaging congress that sets the greatest store by fostering cooperation among medical specialities,' the presidents say. 'Consequently, you will be able to attend workshops, scientific sessions and refresher courses led by international ultrasound experts from all medical fields. There is one aspect, though, that all these sessions, all these experts have in common: Their first and foremost aim is to promote quality-oriented competence in ultrasound diagnostics. We therefore consider it crucial to integrate the sonographers in our Congress and I hope that we will be able to welcome many members from countries where this profession is well established.'
Encouraging delegates to also enjoy the social programme, as well as 'meet and greet, to wine and dine and to experience the art and culture of Vienna', they also refer to the opening concert* at the Austria Vienna Centre, when Dr Rudolf Streicher, former Austrian Minister of Economy, will conduct the Ambassade Orchestra Vienna performing Johann Strauss music with global themes -- 'Quite in the vein of our congress motto Connecting the World of Ultrasound,' the presidents point out.
Also on the social calendar is a wine festival in Gumpoldskirchen village (see our events feature), and finally, for an elegant ending to a well-planned congress, its presidents are inviting delegates to a ballroom reception in Vienna's Town Hall, describing this as 'a neo-gothic architectural jewel is the perfect frame for the eve of the last day of the Congress'.