Sponsored • Medical fair
Welcome to the 79th CMEF Spring Show! Register Now to Save CNY 100!
CMEF--Asia Pacific's medical industry platform serving the entire value chain for the healthcare market, the industry assembly of technology innovation, trading, learning and networking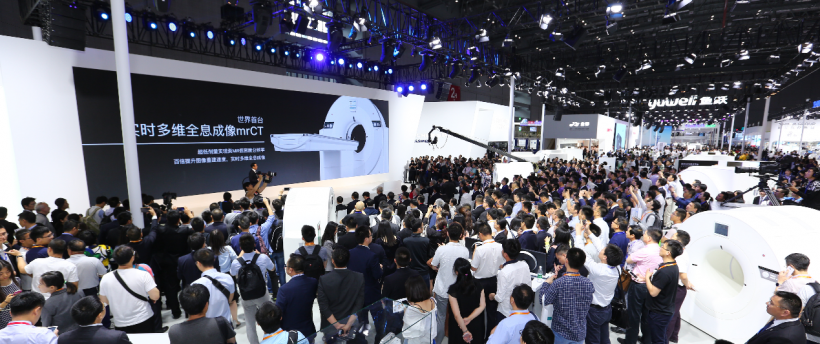 Source: CMEF
China International Medicinal Equipment Fair (CMEF), launched in 1979, is held twice annually – spring and autumn. After over 39 years of continuous innovation and self-improvement, CMEF has become the largest fair of medical devices, related products and services in the Asia-Pacific region. The fair widely covers 15,000 products such as medical imaging, IVD equipment and reagent, medical electronics, medical optics, first aid, rehabilitation devices, nursing, telemedicine, wearable devices and outsourcing services, and it serves the entire value chain of medical devices from the source to the end in a direct and all-round way. With in-depth professional development of the exhibition, CMEF has initiated conference forums and established a series of sub-brands in medical field including CMEF Imaging, CMEF IVD and ICMD. Now CMEF has become the largest professional procurement and trade platform of the medical industry, the best corporate image release ground as well as a professional information distributing center and an academic, technical exchanging platform.
Over 220,000 sqm exhibition space
Intelligent Health China 2018 will launch on CMEF at first time
Expecting 130,000 Visitors from 150+ countries and regions
90% Visitors come from medical institutions/ distributors & agents
Over 4,000 Exhibitors from 22 countries and regions
600+ New products were launched at the fair
50 Conference and forums
In order to help the CMEF audiences to visit the show more according to their own needs and give full support of exhibitors to promote industrial upgrading. The organizer innovatively launched industry cluster with sub-segments.
The 79th CMEF still occupies the whole 8 halls of the National Convention and Exhibition Center in Shanghai. Each sub-segment is as follows: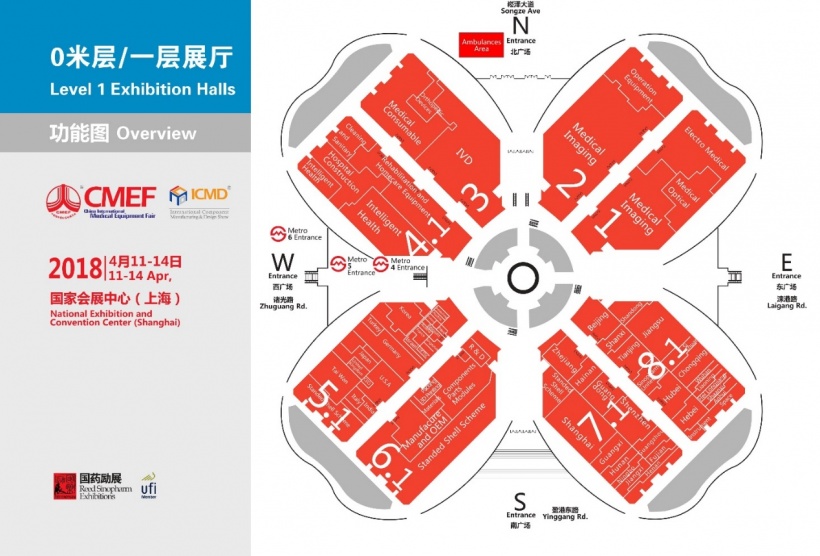 (Click image for floor plan)
In Hall 1 and Hall 2, within the Medical Imaging section, we subdivided CT, NMR, ultrasound and DR four sub-segments.
In Hall 1 Medical Optical section, we subdivided Endoscope sub-segment; In Hall 1 Electro Medical section, we subdivided Guardianship sub-segment.
In Hall 2 Operation Equipment section, we subdivided Integrated Operation Room sub-segment.
In Hall 3 IVD section, we subdivided biochemical diagnosis, immune diagnosis, molecular diagnosis and PECT four sub-segments.
In Hall 3 and Hall 4, within the Rehabilitation section, we subdivided Rehabilitation Project, ICF Treatment, Family Medical Treatment, Auxiliary Equipment and Traditional Chinese Medicine five sub-segments.
In Hall 4, within Intelligent Health section, we subdivided Internet of things, Health Management, Mobile and Telemedicine three sub-segments.
In Hall 5, within International section, we subdivided Britain, Germany, France, the United States, South Korea, Japan, India, Australia, Singapore, Israel and other 21 national pavilions.
In Hall 6, within ICMD hall, we subdivided medical device R & D, manufacture and OEM, Components, Modules, Packaging and 3D Printing, Materials and Related Medical Consultation six sub-segments.
In Hall 7 and Hall 8, within Provincial Pavilions, we subdivided Anhui, Beijing, Fujian, Guangdong, Zhejiang, Chongqing and other 30 provincial pavilions, has been focused on the characteristics of industrial cluster in each region. In addition, you will also see the largest cluster of ambulances in the world.
Are you excited to visit the exhibition? Then hurry to make the online pre-registration for free! We are waiting for you at the National Convention and Exhibition Center in Shanghai!
Source: CMEF