Weight and height
Accurate measurements and reliable management
In many hospitals medical specialists from different fields work closely together. To give them access to centrally held information and patient data collected from admittance to discharge, hospitals increasingly use IT solutions such as the electronic patient's record (EPR). Such installations demand an extensive data security policy and implementation plan.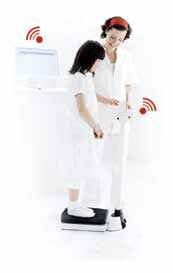 Among other things, how can standard diagnostic data, such as weight and height, be securely added to a patient file?
The seca 360° wireless system by seca gmbh & co. kg in Hamburg not only ensures the accurate measurement of weight and height but also the secure transmission of the data into a patient's file. The wireless products can be installed wherever needed and the seca software can work with any system, regardless of its technological standard. NB: The software is available as a free download from www.seca.com.
The US B Adapter seca 456 is required for reception of wireless data transmitted by seca emr flash 101. First the patient's height and weight are measured using a seca measuring rod and the firm's 360° wireless scales. The intuitively operated software seca emr flash 101 then transmits the results directly to the patient files in the hospital information system (HIS ). After integration in the HIS , the data are assigned to the right patient ID within seconds.
Alternatively, the physician could a central interface, the PC software seca analytics 105, for diagnostic support, to gain access to the HIS data, store weight and height measurements or export additional software analyses as PDF files. In addition, patient and laboratory data can be imported from the HIS . Thus the synergies of a network are fully exploited and work processes accelerated. As the central interface of the seca 360° wireless network is on the hospital server, the hospital's own data security system is in force. To ensure trouble-free communication among the seca 360° wireless products, seca developed its own wireless protocol. This encrypts data in compliance with the Advanced Encryption Standard (AES) and transmits data on an ISM (Industrial, Scientific and Medical) band. AES is approved in the USA to transmit top-secret classified government documents.
Securely recorded in the EPRs, weight, height and other data relevant to the patient's overall health and nutritional condition are thus available to all treating physicians.