TeraRecon's iNtuition Cloud enters Europe
The global software provider TeraRecon is recognised for strong clinical applications containing advanced image processing and 3-D visualisation for CT, MRI and PET. Since May 2010, this Silicon Valley company (Frost & Sullivan's 2010 'Company of the Year Award' winner, for European Advanced Visualisation Applications) has been expanding its core business into cloud computing services via the internet.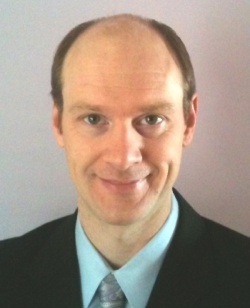 Just in time for the 23rd European Congress of Radiology in Vienna, the firm's iNtuition CLOUD European Datacentre in Frankfurt, Germany, went online. Over 600 users have already signed up for a free account. Reason enough for EH reporter Karoline Laarmann to meet with TeraRecon President and CEO Robert Taylor PhD, to unearth more information about the firm's commitment to web-based technology and its future application services.
'We don't sell prefab equipment boxes to our healthcare professionals customers,' emphasised Dr Robert Taylor. 'Cloud computing is just one of our solutions that broadens the radiologist's workplace outside the walls of a hospital. In addition, it is very flexible. If, for example, you are a very low volume customer, you can still access the full service, at the level that meets your needs. You can use it 10 times a month, or a year, and just pay for what you've used. By this means, you don't have to invest, for example, in setting up a prohibitive 3-D-deployment in your hospital. The other positive thing is that cloud computing relieves the burden on internal IT services. If the server is not in the hospital, the hospital IT department doesn't have to take care of it.'
What decided you to bring this offering to Europe?
'Firstly, it is because of the strong growth we have had and the future potential we anticipate in Europe. We witness a vibrant community of countries here, investing in healthcare technologies, in contrast to the US, which is currently in a kind of near-paralysis because of the complete review of its healthcare legislation and funding structure. In addition, we already offered cloud services to European users connected to data centres further away. So we wanted to improve their access to local support, ensuring them of optimal performance.
'Another idea behind this build-up is that, in contrast to traditional cloud models where there are usually many server rooms in different places, we decided that in the medical field it is of great importance to be point specific about where sensitive data is stored. Usually, the concept of cloud computing is that the company worries about the hardware and the customer only worries about having access to software through their web browser. When you buy a book at Amazon, you do not care where their server stands. But you do care, when it's about patient data. Our European data centre is located in Frankfurt's financial district, where it shares the same special security features as the resident banks.'
Why is your cloud service free?
'There is still a lot of uncertainty about web-based technologies and confidential data -- How does it work? Where is my data? What happens to it? None of these questions have come into the picture before. To create awareness of its benefits we made access to the cloud hosting platform completely free for a limited time. That philosophy is quite uncommon in the medical industry because companies tend to sell everything under very strict controls and medical regulations sometimes necessitate that; but we are keen to try and create something different. When customers see the potential of cloud computing we can talk about how to make them feel comfortable about their concerns regarding the technology. So then the other side of the process starts. We are expecting to uncover problem areas in the next 12 months and work on the solutions with our customers, to a point in the future where cloud computing can probably be integrated into their clinical practice.'
What is the potential of this technology?
'There are two exciting aspects: First, this software is phenomenally useful for research. For example, if you run a clinical trial to test a drug, you typically define standard protocols for how to acquire the data and how it should be interpreted. Using our advanced visualisation tools and our cloud hosting platforms, we can bring the data to the cloud from all remote sites and converge all data results in one place that is fully accessible through the internet. The other thing is that the technology has tremendous value to improve the way physicians communicate. They could share references with each other and send patients to each other to be interpreted. So this is a very interesting model for a social network of individual physicians.'

Link: To sign up for a free evaluation account, visit terarecon.com/cloud

More on the subject:
More on companies: