Process management for future hospitals
Architect Herbert Michael Küpper Dr-Ing from M+ management, demonstrates that full understanding of the working needs of a hospital is necessary to arrive at a successful new construction.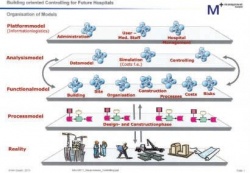 Pressure on hospitals results on the one hand from certain structures caused by case-based lump sums and their proceeds and on the other from separate billing for medical services and operating costs. Budget control is a major cause of innovation slowdown in healthcare systems. Budgets stabilise the status quo. This consistency is now generally accepted. Hence the challenge to realise a growing demand for health services with reduced financing must be accepted. Based on this, a central theme develops. The conclusion must be: Appropriate business strategies that accommodate increased requirements regarding quality and efficiency have to be incorporated.
This leads us to processes and structures issues. Corporate structures are illustrated by process analysis and added value is visualised. Data from a building design model, and later those of a Building Information Model, integrate process data (medical utilisation) and building data. A three-step concept is presented, displaying the interaction between pathways with the required building structures, described in various models (intelligent and target-oriented categories). Thus simulations or variants (sensitivity analysis) can finally be compiled.
Step 1
The basis for target-oriented process control is to demand fundament planning for functional and spatial planning. The final result is a theoretical space allocation plan. Coherent parts are:
• Structures
• Services
• Reference areas
Structures and services build the basis for the reference area design. Information regarding processes and operational specifications are required. These are affected by following directly the area effective factors:
• Operational specifications
• Spatial standards
• Functional standards
• Processes
These are to be supplemented by:
• Energy criteria (HVAC, individuals, lighting,
technology (installation degree)
• Algorithm of feasibility study
This space allocation plan is then converted to a spatial building model. On this basis, project handling can be carried out with reliable functionality.
Step 2
Space and area relevant services are at the core of analytically structured calculation of areas within functional and spatial planning. Definitions of these service catalogues often vary from the hospitals services documentation on hand because services are registered therein as a basis for proceeds, or as parts of a diagnosisrelated allocation formula. Thus the description of space-related performance parameters is not provided. By using distribution systems and data transfer from existing hospital information systems, a data base of area calculations can be compiled. In this way, the interface between patient pathways, and hence the generated process costs and space-related performance parameters, can be established.
Performance parameters are:
• Personnel costs
• Material expenses
• Operational costs
• Capital costs
Step 3
In the final step, a data base illustrating the reciprocal effect between medical performance and space-related costs is obtained. Only now can processes be scaled in order to illustrate, regulate and control proceeds (case-based lump sums) together with process costs, all based on a building-related model. A dynamical spatial visualisation is then compiled, leading to the additional benefit hospitals want:
• Complete data and knowledge of process costs
• Reciprocal effects between processes and areas
• Added value can be assigned precisely to areas, rooms and functional sections
• Hence areas that are not adding value can be either eliminated or optimised
• Transparency and clarity by gaining information superiority
• New approaches for realisation of energy efficiency (the energy-neutral hospital is the final product of targeted data modelling)
• A convincing basis for debate in order to establish and implement sustainable corporate strategy
The methodology can be also used to document existing or new processes and describe the associated information that has to be exchanged between parties. The output from the standard can be used to plan a more detailed specification, which can form the basis to establish a Building Information Model for hospitals.
For more information please see M+ management..