Sponsored • Components
Varex Imaging – Your partner for success
As a trusted imaging components leader, Varex has a laser focus on providing customers with high-quality and cost-effective products. Excellence in imaging is a top priority. Varex delivers best-in-class components that help equipment manufacturers to quickly develop and launch their next-generation systems powered by our components.
Varex has one of the largest product portfolios in the X-ray imaging industry. Each year, Varex produces in excess of 25,000 X-ray tubes, 21,000 digital flat panel detectors, and 100,000 high-voltage cable assemblies. In addition to those products, Varex also produces ­collimators, bucky systems, automatic exposure devices, and specialized linear accelerators for high-energy imaging. The portfolio also includes software for image processing and computer-aided diagnostics. All of these are key components in X-ray imaging systems manufactured by OEM customers.
When you put it all together, this translates to more than one-quarter of all medical imaging tubes and digital flat panel detectors globally are produced by Varex. In addition, most global OEM customers are buying at least one of the company's components. This is accomplished via deep and long-term relationships with OEM customers that average more than 25 years – including 40-year relationships with half of the company's top 10 customers.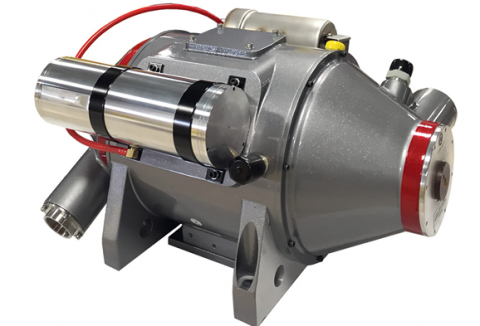 Varex is in a leadership position in an approximate $4 billion ­medical diagnostic and industrial imaging market that offers ­numerous growth opportunities for its special breed of high-throughput X-ray tubes, flat panel digital detectors and software for image processing. Examples include the ongoing conversion from analog-to-digital systems, which is only about half way through the process globally. Varex is forging relationships with customers around the world. In China, India and South Korea, dozens of new OEM imaging system manufacturers are being established, creating additional growth opportunities. To accommodate this rapidly growing X-ray imaging market, during 2016, the company completed a 150,000 sq. ft. expansion of its manufacturing facility in Salt Lake City, Utah and also added a new facility near Shanghai, China.
As an independent company, Varex Imaging has about 1,900 employees at its headquarters in Salt Lake City, Utah and in facilities around the world. The company serves its OEM customers with innovative X-ray components that help bring their next-generation imaging systems to market faster. Varex Imaging is the largest independent X-ray imaging player in the world. With its 65-plus year history of innovation and ­reputation for technical excellence including more than 220 active patents, a comprehensive product portfolio, large-scale manufacturing capability, talented workforce, and long-standing customer relationships, Varex Imaging is well positioned for continued market leadership and profitable growth.
More on the subject:
More on companies: