Understanding parameters
Clinical chemistry influences almost all medical disciplines: most diagnoses are made or confirmed only after the laboratory has determined at least one or two parameters.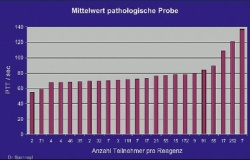 Accurate results are a precondition for correct treatment. In this process, values from the laboratory can rarely be determined as absolutely as body temperature or blood pressure. However, even if the values are not identical, they must at least be comparable. This sounds simple, but is difficult to achieve.
Inter-laboratory comparisons, conducted at regular intervals, document the range of accurate results produced by medical laboratories. Based on a series of results, European Hospital demonstrates how certain laboratory parameters differ and what effect this can have.
Finally, Professor Gerd Schellenberg, from the Centre of Life Sciences at Anhalt University of Applied Sciences in Bernburg, explained by using the example of allergies to bees and wasps (cf. EUR. HOSP. 3/2013 p. 8). In this issue, Professor Michael Spannagl, Specialist in Haemostasiology at the Munich University Hospital and Chairman of INSTAND e. V., describes an example taken from coagulation diagnostics:
Activated partial thrombin time (aPTT) measures plasmatic coagulation and is the only rapidly available parameter for monitoring heparinisation. This is important, for example, during interventions requiring catheterisation, when using extracorporeal systems to stabilise the cardiovascular system or for supporting lung function. Heparin suppresses the natural blood coagulation functions and thus prevents the formation of clots and thromboses.
The test value for a normal, healthy adult is usually below 40 seconds, while it is generally 60-80 seconds under heparin. This figure shows how differently a quality control sample with a pathological value (1 unit of unfractionated heparin was added per millilitre of blood plasma) is assessed by different analytical systems: The values measured by the 1,035 participating laboratories ranged between < 60 and > 135 seconds.
We can only imagine what might happen if a patient undergoing heparin treatment was transferred from a 'low-value hospital' to a 'high-value hospital': without the knowledge of the variability in aPTT measurements, the heparin dose could potentially be reduced or treatment discontinued entirely and this could cause a thrombosis. Conversely, if the patient was transferred in the 'opposite direction' the heparin dose could be doubled and this could trigger severe bleeding.