Cardiology
Transcatheter aortic valve implantations (TAVI)
Different quality requirements trigger dispute among German cardiologists and cardiac surgeons
A hybrid operating theatre is considered ideal for TAVI because cardiologists and cardiac surgeons can work hand in hand. Here, in the hybrid theatre at Kerckhoff Heart Centre, Bad Nauheim, a transcatheter aortic valve implant with transfemoral access is being performed. The clean air room features cardiac cath lab equipment and an X-ray system.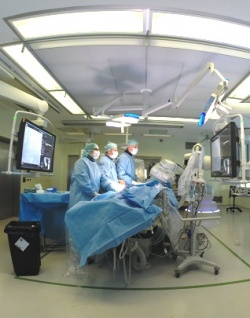 The Guidelines on Management of Valvular Heart Disease, updated in 2012 and published by the European Society of Cardiology and the European Association for Cardio-Thoracic Surgery, explicitly require transcatheter aortic valve implantations (TAVI) to be performed solely at heart centres with cardiac surgery on-site. This is exactly the requirement that makes German cardiologists balk. The ensuing debate between cardiologists and cardiac surgeons is jeopardising the planned joint certification for physicians and heart centres that carry out TAVI.
'We do not pin our quality requirements solely on an on-site cardiac surgery department but think that other preconditions need to be met,' explained Professor Christian Hamm, President of the German Cardiac Society. As far as TAVIs are concerned, he added, close and effective cooperation between cardiac surgeons and cardiologists so that certain quality criteria are fulfilled is more important. Hamm is convinced that, in certain circumstances, this can indeed be possible without a dedicated cardiac surgery department. Not negotiable, he points out, is a full on-site cardiac surgery team with at least two heart surgeons on duty. Moreover, the necessary equipment, e.g. a heart-lung machine, must be available, operational and used routinely at the facility.
Professor Jochen Cremer, President of the German Society for Thoracic and Cardiovascular Surgery begs to differ. TAVI, the cardiac surgeon emphasises, is an invasive procedure associated with clearly life-threatening risks. Current figures culled from the German Aortic Valve Registry and international meta-analyses, Cremer adds, indicate the risk of acute perioperative complications requiring immediate cardiological or cardiac surgery intervention to be at around four percent. Additionally, in one to two percent of the cases open-heart surgery with a heart-lung machine is immediately necessary as the data of the AQUA quality report 2012* and GARY indicate.
The know-how of specialised physicians, support and nursing staff, as well as an adequate infrastructure with state-of-the-art technology provided 24/7 by a dedicated cardiac surgery department, the professor concludes, is thus indispensable for patient safety and preparation, performance and follow-up of TAVIs. 'No matter how qualified, two cardiac surgeons who come running with their little travel cases cannot replace these requirements,' Prof. Cremer points out.
In 2012, the AQUA Institute reports, 18 centres in Germany performed TAVIs without on-site cardiac surgery. These facilities, however, carried out a mere 3.5 percent of all such procedures and only three among the 18 did so on any extensive scale: two centres recorded 50 implants each and one centre recorded roughly 100 TAVIs. Since the percentage of heart centres without a dedicated cardiac surgery department is so small, there are no reliable data to analysis whether the results of these centres differ from the results of facilities with on-site cardiac surgery and a cardiology department.
While this point of contention currently paralyses cooperation between the two professional associations regarding TAVI-performing centres, cardiologists and cardiac surgeons unanimously support other important quality requirements of the European TAVI guidelines, e.g. TAVI is indicated exclusively for older patients with severe symptomatic aortic stenosis (AS), who are not suited for conventional procedures and whose life expectancy is beyond one year. Moreover, the decision whether TAVI is an option should ideally be made by a heart team comprised of cardiac surgeons, cardiologists and, if necessary, other specialists such as vascular surgeons or angiologists.
In recent statements cardiologists and cardiac surgeons alike underlined the utmost importance of complying with the above-mentioned indications in view of the fact that the 2012 AQUA report had shown that an inordinate number of transcatheter aortic valve implants was performed on healthy people (*1: 1.9% = 177 patients) and on patients with mild systemic disease (* ASA2: 7.7% = 722 patients). It can be assumed that no severe AS was present. Currently there are no reliable data regarding patients with estimated low or intermediate surgical risk undergoing TAVI, which might confirm at least comparable outcomes of TAVI and conventional surgical procedures, both Professor Hamm and Professor Cremer pointed out.
Cardiologists and cardiac surgeons do agree that TAVIs should be limited to heart centres performing a sufficient number of such interventions per year by highly experienced specialists. What exactly a 'sufficient number' might be is still under discussion. Whilst neither the European guidelines nor the cardiologists have proffered concrete figures, the cardiac surgeons suggested a minimum of 50 procedures per surgeon and 100 procedures per centre per year as a precondition for TAVI certification.
At this point it is entirely open whether cardiologists and cardiac surgeons will arrive at a joint position. Possibly, G-BA, the German government's Expert Panel on Health, will decide the issue. The panel is currently discussing regulations to define structural quality requirements for TAVI. From the patient's point of view a joint position by cardiologists, cardiac surgeons and heart centres on TAVI certification is desirable.
* In its annual report AQUA-Institut (Institute for Applied Quality Improvement and Research in Health Care GmbH) analyses all services provided in German hospitals that need to be documented. The German Aortic Valve Registry (GARY) was established in 2010 and is jointly maintained by German cardiologists and cardiac surgeons.
* ASA = American Society of Anaesthesiologists Classification, physical status classification system.

PROFILES:
Following practical training in the cardiology department at Eppendorf University Hospital in Hamburg, in 1999 Professor Christian Hamm became the first director of the cardiology department at the Kerckhoff-Klinik in Bad Nauheim. In 2004 he became the clinic's medical and managing director. Since 2013 he has headed the Cardiology Clinic at Giessen University Hospital. Dr Hamm is also Professor of Cardiology and Angiology at Justus Liebig University, Giessen, and medical and managing director of the Kerckhoff Cardiac Research Institute (founded 2012). He became a Board Member of the European Society of Cardiology (ESC) in 2004 and has presided over the German Cardiac Society (Deutsche Gesellschaft für Kardiologie – DGK) since 2013.

After practical training at the Clinic of Thoracic, Cardiac and Vascular Surgery at Hanover's Medical University (MHH), Professor Jochen Cremer spent three years as managing senior physician at the cardiac and vascular surgery clinic at Christian Albrecht University (CAU), Kiel, before returning to MHH to co-establish the minimally invasive surgery programme. In 1998 he was appointed Chair of Cardiac and Vascular Surgery at CAU and has headed the Centre for Surgical Medicine at Schleswig-Holstein University Hospital since 2004. In 2008 he took up his directorship of the hospital's Clinic of Cardiac and Vascular Surgery Clinic.