TopClean 60 multiwasher
For utmost patient safety, MEIKO is proud to present a so-called multiwasher with the type designation "TopClean 60". This state-of-the-art

development from the Offenburg manufacturer

of disinfection appliances for hospitals and nursing homes involves a cleaning and disinfection appliance for practically everything that has to be treated safely in terms of hygiene.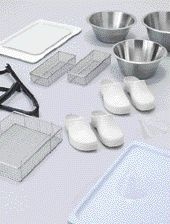 The safety offered by the system is made possible thanks to the gentle disinfection process. Short program cycles and low disinfection temperatures of up to 74° C ensure a disinfection performance of at least A0-60, while the pricing of this appliance is very tight.
Whether wash basins, trays, flower vases or even operating theatre shoes – the universal appliance completes all its practical applications easily and reliably. At the same time, rapid availability of the treated utensils is ensured through the shortest program operating times. Thanks to three selectable programs in the "TopClean 60", Meiko enables sufficient flexibility to provide a hygienic solution to all conceivable practical applications. The automatic water-changing function in the intensive program is perfectly suited for dealing with stubborn soiling – with an economical use of water.
The treatment processes in the short and normal program are optimised in relation to hygiene performance, while ensuring lower operating costs. As an example, "TopClean 60" therefore only uses approx. 2.6 l drinking water in the normal program. An outstanding achievement! Thanks to the use of these appliances, the workflows in nursing and care can meet the requirements demanded by hygienists throughout the world in line with standardisation-compatible and hence mechanical cleaning and disinfection processes. Moreover, tremendous cleaning results are achieved by the innovative fine-filter technology "AktivPlus".