Article • Neurosurgery
Their parts are simply too big
'An autonomously working robot in the operating theatre will continue to be a vision of the future for a long time to come,' according to Professor Uwe Spetzger, Clinical Director and Neurosurgery Specialist at Karlsruhe City Hospital. At the same time, he is calling for political support for the development and promotion of these innovative technologies and asking funding bodies to rethink their strategies. 'The topic obviously easily lends itself to ethical discussions,' he adds, 'but, in some cases, an assistance system can actually be more reliable than a human colleague.'
Report: Marcel Rasch
A setback for science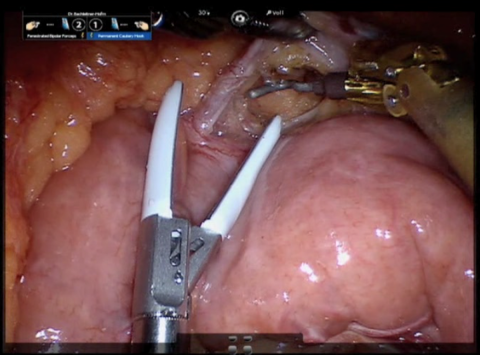 The big boom in robotic medical technology in Germany occurred around 15 years ago. At the end of the 1990s to the early 2000s robots conquered operating theatres, carrying out hip replacements more or less autonomously – often with little success. Why? Because those robot-assisted operations failed due to mistakes. 'The errors were human and actually quite banal, because the robots were often not programmed correctly; calculations were carried out wrongly and user errors occurred,' Spetzger explains. 'In principle the robots were very precise and performed good work on components. However, they had not been specifically manufactured for the medical market but mostly rather adapted from the automotive industry.'
'What followed was a general loss of trust and a setback for robot assisted surgery. 'This not only resulted in harm for some of the patients treated but also in enormous damage for science per se because, consequently, not one single EU or German Research Foundation (DFG) application was approved that included the word robotics.'
Da Vinci: outstanding for MIS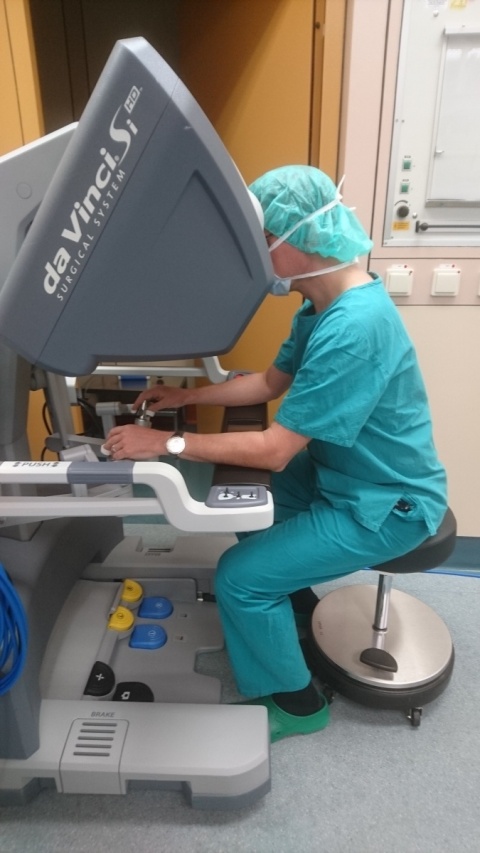 Interest in robot-assisted surgery is now slowly re-awakening. At Karlsruhe City Hospital the Da Vinci Surgical System, developed in the USA and largely based on remotely-controlled assistance systems that aimed at guiding small camera systems and small instruments directly to where needed is mainly used by urologists, specialists in abdominal surgery and gynaecologists. 'The system is outstandingly suitable for minimally invasive surgery (MIS) in the abdominal cavity,' explains Spetzger, whilst also limiting the advantages. 'However, for neurosurgeons the system is of no use. The basic problem is the access needed to the surgical site. You would have to drill four or five holes into a patient's head to place a camera, a mounting system and the actuator arm into position and into the brain. That would be a catastrophe.'
Nonetheless, neurosurgery could actually benefit from further developments of this technology as it predominantly uses mounting fixtures for endoscopes or instruments. 'For this application, a robot is almost more reliable than a human colleague because it always works based on exact calculations and with high precision, and it doesn't shake, which is a big advantage particularly for the brain,' Spetzger emphasises. Neurosurgery is based on image-guided operations; each intervention is carried out under navigation, so computer assistance is already standard nowadays. 'Therefore, it's not actually that far to go towards partial automation,' Spetzger points out.
Most assistance systems are still currently far too big and not easy enough to handle. 'And, above all, they are too expensive,' the neurosurgeon emphasises. 'The Da Vinci System, for instance, works with disposable instruments, which must be discarded after each operation. This creates additional costs in the region of €2,500 – essentially an amount usually spent on care, medication and hosting the patient after the operation. This clearly needs rectifying.'
The need for future improvement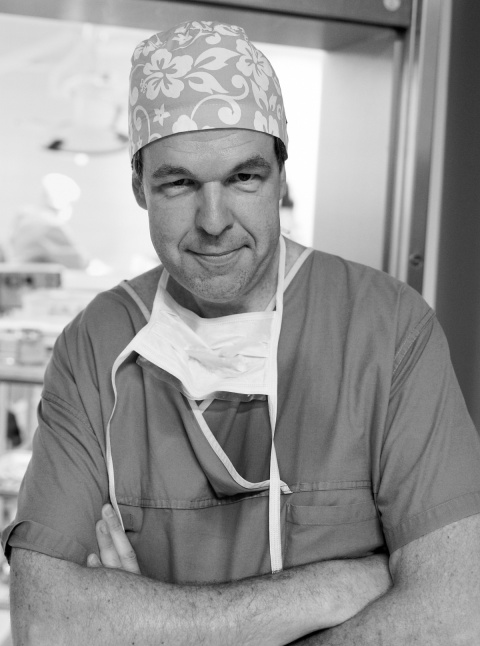 Spetzger believes that politicians and funding bodies need to up their game and hopes for restructuring. 'There are many companies which have been developing innovations in the field of robotics. This should be promoted, he suggests.
He cannot conceive of a further setback such as that experienced 15 years ago with robot assisted hip surgery. 'Modern assistance systems do not work autonomously,' he explains. 'Even then it wasn't actually the devices that went wrong – there were simply calculation and user errors. Working with robots in medicine requires solid training and continuing education.'
The specialist, who also lectures at the Department of Robotics at the Karlsruhe Institute for Technology (KIT), does not believe there will be a quick development towards completely autonomous assistance systems. 'The procedure is currently only being utilised for certain types of surgery on the spinal column. A vertebra needs to be handled like a component. You can mount fixing screws and wires and carry out partial steps of an operation with small, precise guiding devices. For brain surgery this type of intervention is currently being used for stereotactic biopsies and Parkinson's or epilepsy treatment, with implantation of stimulation probes because the system can move very slowly and precisely along a pre-calculated route, and also for robot assisted stereotactic precision radiation with the CyberKnife.'
The specialist has a clear vision of the future: 'I cannot imagine a completely autonomous system even in the more distant future. It's simply not conceivable with the technology available at the moment. Machines lack any intuition and also the capacity for the differentiated problem recognition and analysis that humans possess. An autonomous robot carrying out surgery is likely to remain science fiction.

Profile:
Uwe Spetzger gained his medical degree at Heidelberg University and the University of Zurich. Following work in Aachen, Brussels and the USA, in 2002 he became Director of the Neurosurgery Clinic at Karlsruhe City Hospital. From 2005 he has been a member of the Faculty of Informatics at Karlsruhe Institute of Technology and the Institute for Anthropomatics and, from 2013, has been a cooperation partner of the RadioChirurgicum – Cyberknife Centre Southwest (robot assisted stereotactic precision radiation). A member of many national and international specialist societies he was a founder member of the German Society for Computer and Robot Assisted Surgery (CURAC), past-president of the International Society of Medical Innovation and Technology (SMIT) and past-president of the 66th Annual Conference of the German Society of Neurosurgery (DGNC) held in Karlsruhe in 2015.