The Wearable Technologies Show
We may be able to live longer due to medical advances, but what of the ability to live independently in old age? According to DeStatis, the German Federal Statistical Office, by 2050 there will be a deficit of 260,000 caregivers – and Germany is not alone in this.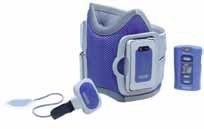 With their connection to telemetry systems, wearable technologies, worn on or within the body, may provide solutions by helping the aged to remain independent. During last year's Medica, the Wearable Technologies Show caused a stir when established firms and industry newcomers showed their market-ready products as well as prototypes and research projects. At Medica 2011, companies and researchers are again presenting advances.
7Layers AG
During the development phase, 7Layers supports manufacturers with the integration of wireless components and antennae, conducts the necessary EMC, Bluetooth and wireless test processes and handles global type approval and certification.
AiQ Smart Clothing BU of Tex Ray Industrial Co. Ltd: Bioman
The main focus of the AiQ wearable vital shirt is the early discharge cardiovascular (CV) patient, but it can be used in hospital or in the home. To measure heart rate, five electrodes are integrated with the garment and it can take six bipolar leads and a V lead for ECG diagnosis. The acquired ECG signal is processed and monitored using very low power smart IQ firmware to check the rhythm, normal sinus rhythm and VPC diagnosis continuously. During an abnormal event, the system will initiate detail ECG waveform acquisition and transmit to the server in the cloud to alert the remote physicians.
Avery Dennison Medical Solutions
Worn on the body, the Avery Dennison Metria Wearable Sensor Technology platform for patchbased wearable sensors delivers physiological information to users and providers through consumer and clinical applications.
Bioness for rehabilitation
Bioness offers technologically advanced medical devices designed to benefit people with stroke, multiple sclerosis, traumatic brain Injury, cerebral palsy or spinal cord injury. Using wireless Functional Electrical Stimulation (FES), it includes the NESS L300 Plus to restore knee, foot and ankle movement and the NESS H200 to activate the hand and forearm.

Bluegiga
Bluegiga e-health Bluetooth Gateways, Modules and Bluetooth low energy modules help to shorten development cycles and improve the time to market. The company reports that its software and firmware support the latest medical and health standards and can be easily integrated and customized for various applications.
Bluetooth Sig
Wireless Bluetooth technology is the ideal for connected health and fitness devices because it's simple, secure and everywhere. The latest version, Bluetooth v4.0 with low energy, makes the vital healthcare data transfer even more efficient and less power consuming – improving the latest mobile health solutions.
BodyTe
BodyTel products support patients with home diagnostics for chronic illnesses, prevention and lifestyle changes. The key is the automatic documentation and transfer of measured body values (blood glucose, blood pressure and weight) as well as the simple recording of relevant additional information and thus the development of complete patient files. The patient can allow medical professionals and health carers to view his or her file. Additionally, carers can opt for an alarm sent to be sent to them under defined conditions. This system enables active measures to be taken before or during events that require intervention.
CSEM
To achieve widespread deployment of body worn and implantable sensors, further gains must be made miniaturisation, battery life and reliability. Demonstrated at the Medica event are Cost-effective and Miniaturised System-on-Chip Based Solutions (CSEM) for portable medical & BAN Applications. 'We will demonstrate some of the technology platforms being developed at CSEM including ultra-low power system on chip, high availability low power wireless protocols and body-worn wireless module integration and show some innovative examples of how these technologies are reaching the market,' CSEM reports.
Sense
A pioneer in wearable human vital signs monitoring, Sense reports that it is bringing a new dimension to human high performance in sports medicine. The firm's product is a multi-parameter sensing system for sportsmen, integrated into a textile to continuously record ECG, impedance plethysmography, core body temperature, and activity by means of integrated dry electrodes in compression layer-1 garments.
Fraunhofer IIS
Exercise in the 21st Century is regarded as a remedy, not only for rehabilitation but also to become fit. Sensors integrated into clothing record motions and analyse them. The wearer gains feedback about the quality of the motion via a TV or other display. The smart assist-ance system promotes and obtains cognitive and motor abilities, particularly for elderly people, enabling independent living at home, the institute reports.
Freescale
Health and wellness devices need to incorporate analogue sensing capability, low power and highly integrated processor technology with connectivity. Freescale microcontrollers combine optimum processing capabilities with low power consumption. The firm provides complete hardware and software solutions for wired and wireless interfaces, including USB with Personal Healthcare Device Class (PHDC), IEEE 802.15.4 and ZigBee healthcare technology. Freescale micro-lectromechanical system (MEMS)–based pressure and inertia sensors can be used to acquire physical parameters along with touch screen user interfaces enabled by proximity sensors.
Laird Technologies
The company is highlighting its Bluetooth Enhanced AT Data Module (BTM44x series) with Health Device Profile (HDP). 'The BTM44x series provides an additional abstraction of the ISO/IEEE data specialisations and allows the user to easily transmit health device information using either simple AT commands or a Multipoint Protocol API. Currently supporting ISP/IEEE 11073-10415 for weigh scales, the BTM44x series permits OEMs to add HDP to their product with very little knowledge of Bluetooth or the HDP itself.'
MindTree
Specialising in the Bluetooth Low Energy (BLE) domain, through its suite of product proven intellectual property (IP), MindTree reports that it offers OEMs and semiconductor providers a quick, easy path to creating ultra-low power, differentiated and robust devices for the wearable domain. The firm is demonstrating its BLE and complementary components for personal health and lifestyle body-area applications.
Nuubo
The company designs, manufactures and sells a portfolio of innovative wearable medical technologies for cardiac prevention, diagnostics and rehabilitation solutions. It is based on a wireless dynamic ECG remote monitoring platform that incorporates proprietary patent pending biomedical e-textile technology (BlendFix Sensor Electrode Technology).
Varta Microbattery
VARTA Microbattery is showing various energy solutions for applications in wearable technologies. Coin Power, the firm reports, is this year's most highly regarded innovation. 'It's an innovative, small size Li-Ion cell with outstandingly high energy density.'

wearable-technologies.com
The Wearable Technologies Show
Hall 15. Stand C04