The wait is over
The UK's National Health Service is notorious for its waiting time for surgery. The Scottish Government recently decided to tackle this issue and proposed a Patient Rights Bill which includes a legal right to surgery within twelve weeks .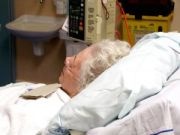 The Patient Rights Bill could be a life line for some seriously ill people since it calls for a legal right to treatment within twelve weeks from the GP's referral to surgery. Furthermore, the document suggests a "no fault" compensation scheme. At present only patients who suffered legally established negligence receive financial help.
Currently, there is a non-binding target of 18 weeks from referral by a GP to being seen by a consultant and a further 18 weeks until hospital treatment.
The NHS is working towards a maximum 18 week wait by 2011.
The 12 weeks proposed in the draft Patient Rights Bill would be within the 18 weeks and would apply "once in-patient or day case treatment has been agreed as the most appropriate way forward".
The proposal also calls for independent patient rights officers for every health board area, and clearly defined systems of feedback and redress.