The Hospital Management Symposium 2010
Closing the gap between clinical and management processes in the hospital
What a success! On 6 March, ECR meeting room K was filled to capacity when congress president Professor Małgorzata Szczerbo-Trojanowska opened the Hospital Management Symposium 2010 (HMS). The number of pre-registrations bore witness to HMS' high reputation. Many ECR participants had immediately the HMS time bracket in their agendas in order not to miss the new developments in "Management, IT and Economics for Hospitals and Radiologists".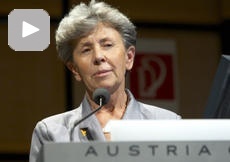 Hands-on and highly informative – as in the past years the core features all presentations by the renowned panelists. Traditionally, HMS is split in two sections: "Management and Economics" and "Information Technology Management and Radiology". While the former section focuses on the role of radiology in a hospital and on the contributions we can expect from in terms of cost containment and process optimization, the latter section addresses the question "How can information technology leverage the cost-benefit-relation of radiology?"
It was once again Professor Dr. Dr. Wilfried von Eiff who – for the benefit of all – kept a tight rein on the discussions. Since 1994, von Eiff has been professor for hospital management at the University of Münster, Germany, where he also heads the Center for Hospital Management". As INSIGHTS-MDI certified trainer and EFQM (European Foundation of Quality Management) assessor his work primarily deals with purchasing and logistics management, business process management, mergers and acquisitions and medical controlling.
In his opening remarks, von Eiff emphasised the importance of radiology from the point of view of hospital management in order to control and optimize patient flow: "Radiology is a central hub where diagnostic information is generated, stored and distributed all over the hospital. Furthermore, radiology is an area where major innovations in technology and diagnostic procedures come up every 9 to 12 months. Thus, radiology contributes to a continuously improved level of medical services but is also a source of increasing needs for investments." The new paradigm in management challenges the hospital leaders to improve medical quality and contain costs simultaneously. "The role of radiology on the way to fulfil this management paradigm is the leading subject of our conference session this afternoon," Professor von Eiff remarked, defining the framework for the following HMS presentations and discussions.