MIR@ECR
Management in Radiology (MIR) is a subcommittee of the ESR Professional Organisation Committee, set up to address current challenges and provide a forum for education and the exchange of ideas and concepts.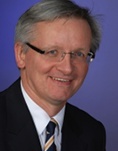 For ECR 2014 the MIR group has gathered leading radiologists to present technological advances and new imaging techniques during two sessions: 'Clinical Decision Support and Radiation Protection Training' and 'Patient-centred Radiology and Economics'.
Session 1
Radiologist Denis Remedios (UK), co-author of the Royal College of Radiology guideline for the United Kingdom, will discuss 'Appropriate imaging: Aspiration, inspiration or reality'.
Professor of Radiology at Harvard University, James Brink heads the radiology department at Massachusetts General Hospital. He will report on clinical decision support (CDS) based on lengthy experience at MGH.
Lluis Donoso (Spain), vice-president of the European Society of Radiology (ESR) and Chair of Radiology at the University Hospital in Barcelona, will explain the ESR initiative on CDS.
Peter Vock, chairman of the ESR working group on radiation protection, will present the new ESR initiative to promote radiation protection and two physicists from the, Dr Donald Peck (USA), co-founder of ACR initiatives on radiation protection, and Dr Annalisa Trianni (Italy), Board Member of EFOMP, will seek to clarify any truth in talking about radiation risk? It is often difficult for radiologists to discuss the benefits vs. risks on specific imaging procedures with referring physicians and patients; thus expert knowledge is mandatory.
Session 2
The two sides of the radiology coin are individualising treatment, i.e. a patient centred approach and, the flip side, economic considerations.
Elisabeth Schouman (France), Professor of Radiology and a Member of the MIR-Board, will explain the results of a European survey on the economic situation, while Dr Mansoor Fatehi (Iran) will report on challenges experienced in 'special situations', providing a real example of economic impact on radiology practice at national level. Better understanding and appropriate acting by radiologists can only be achieved with better knowledge of basic economic rules, to be explained by economics expert Professor Giuseppe Turchetti (Italy).
Improvements in patient-centred radiology involve a better culture of safety and communication. Dr Catherine Mandel will reveal ex­perience with a 'Radiology Event Register' in Australia and New Zealand, while radiologist Charles Kahn (USA), chair of the RSNA reporting templates committee will discuss communication and the need for a 'visible radiologist'.
Winding up the session, Dr Eric Briers will present the patient´s perspective.
Both sessions include discussion time and audience participation.