The gigantic impact of dwarf technology
A nanometre is unimaginably small - one billionth of a metre.
It occupies approximately the same space as one to three atoms.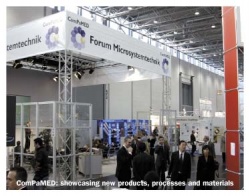 However, this miniscule unit of measurement presents gigantic opportunities. Today the market volume of 'nano-influenced' products and services is E220 billion, a figure predicted to rise to E1,100 billion by 2015. The realm of the dwarves ('nano' comes from the Greek word nanos, meaning dwarf) is especially significant for medical technology.

Market researchers predict that sales of biocompatible coatings and artificial skin (both based on nanotechnology) will reach around E85 billion in the foreseeable future. Other areas of medical technology influenced by nanotechnology include precision mechanics and electronics, as well as the combination of the two, electromechanical systems (e.g. lab-on-a-chip). Nanotechnology has also enabled the creation of intelligent biomaterials that can, for example, absorb medications and release them later at an appropriate site.
Another exciting introduction are Carbon Nanotubes (CNT); just a few nanometres in diameter, they can function as 'artificial muscles', which opens new visions for orthopaedics, endoscopy and minimally invasive surgery.

The use of patients' own tissue in grafts to avoid problems with biocompatibility and enable quicker recovery, are also promising. However, human cells or tissue often need some kind of supporting structure - made of a highly developed material. Nano-modelling of such structures can be used to stimulate cell growth (in the reconstruction of cartilaginous or bone tissue, for example), as they are quickly populated and filled with tissue.

Lasers, Pumps and Sensors
Opportunities and expectations created by nano and microtechnology will again be showcased and discussed at the ComPaMED's IVAM Forum, hosted by the Microtechnology Network. Many IVAM members will present products and services at ComPaMED's joint display stand, including ACEOS GmbH, which creates miniaturised, integrated, multi-gas sensors based on high-quality ceramics and precious metal pastes. Bartels Mikrotechnik GmbH (Dortmund) also focuses on creating the smallest components possible, and will present pumps that are used, for example, in making mobile insulin dosage units smaller and more precise, or in artificial sphincter implants to open and close the bowel. Smaller than a one-cent piece, the pump moves fluids at a rate of between 50 microlitres and 5 millilitres per minute, and gas at similar rates.
Polymer processing is pushing conventional production technology to its limits. This is especially true for welding synthetics together without damage, by using new laser methods. The hybrid welding technique developed by LPKF Laser und Electronics AG (Erlangen) combines light ray and laser welding and provides a new form of energy transfer for specialised applications.

Ceramics, sapphires and rubies
The Swiss firm Ceramaret SA develops and produces components using the hardest possible materials, e.g. zirconium and aluminium oxide, as well as synthetic sapphires and rubies. Complex components are formed through powder compaction to create products very close to the desired end product. This means almost no further processing and a huge reduction in the number of processing steps required. The materials used are highly resistant to wear, corrosion, heat and pressure, as well as aggressive gases and liquids. Biocompatibility is particularly interesting. Such components are needed in endoscopy, electrosurgery, endosurgery, microsurgery, etc. Ceramics will also profit from nanotechnology in future, as more types of raw powder are created on a nanoscale. Result: new properties. Nanoceramics are already far less brittle and can be more easily sintered.
ComPaMED 2005, running in tandem with Medica has 270 exhibitors, from 22 nations, showcasing the latest developments in all these areas.
Report: ComPaMED, with science/technology journalist Klaus Jopp
Details: www.compamed.de