MEDICA 2011 - This year's Trends & Topics!
MEDICA 2011 in Düsseldorf (16 - 19 November) promises an "explosion" of novelties from the medical technology industry. The more than 10,500 new products registered by exhibitors at the MEDICA.de Internet portal are not the only indicators. The MEDICA PREVIEW press event already provided a preview of the most significant trends and product highlights.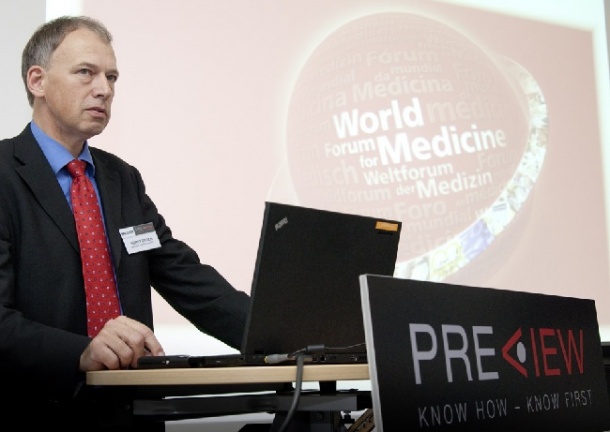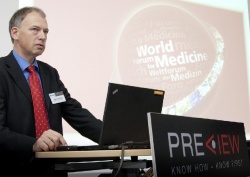 Concerning process innovations in ambulatory and stationary patient care, "networking" is the current catchword with respect to cooperation between the individual players as well as the necessary medical devices. For instance, a concept for optimizing the procedures in operating theatres and endoscopic wards, which has already been implemented at Hamburg's Diaconical Hospital, was presented at the MEDICA PREVIEW of Olympus (MEDICA exhibitor). Devices from various manufacturers can be easily operated by the attending physician from a central touchscreen. Also integrated are systems for video and image documentation, which also allow the "live" transmission of surgical procedures, including medical imaging from inside the patient's body, to other workstation computers in the hospital. This allows a quick evaluation from colleagues within the framework of diagnosis.
A novel patient monitoring system from Philips also promises process optimization for doctors and patients alike. It aims to solve the growing need for hospitals to monitor more closely the health of patients even outside the intensive care wards. Nowadays , for economic reasons, intensive-care patients tend to be moved to normal wards sooner and sooner, thus creating demanding challenges for nursing staff for which a solution must be found. This compact, mobile monitoring system relieves hospital staff of the job of carrying out routine measurements every few hours. The system automatically compares the relevant vital data with defined target values and has a system of warning lights to indicate that the patient requires special attention.
Meanwhile, Deutsche Telekom has taken up the cause of ensuring healthcare in rural areas by means of telemedicine applications. Amongst other things, it will showcase the "cardiac insufficiency telemedicine workplace" at MEDICA 2011. With a user-friendly device, the patient records data such as ECG, blood pressure and weight. The parameters are sent with Bluetooth via a base station and an Internet connection directly to the patient's electronic medical file at a connected telemedicine centre. There, the data are monitored and, if necessary, an intervention is initiated. The device provider and technical partner is getemed (also an exhibitor at MEDICA), the medical file was developed by Telekom.
Another novelty presented at MEDICA PREVIEW was an impedance tomography device that makes ventilation processes and their effects on the lung visible, thus allowing improved control options and more precise adjustment of the ventilator (from Dräger). What also raised a lot of interest among the journalists was an innovative tinnitus therapy device (from ANM) which, based on acoustic neuromodulation, counteracts the pathological hyperactivity of nerve cells in the auditory centre. The aim: To teach the nerve cells to unlearn the tinnitus sound.
Increase in bookings at MEDICA and COMPAMED
With more than 4,560 exhibitors and 116,000 square meters of booked floor space, MEDICA 2011 is again boasting an increase compared to the previous year. That two thirds of the exhibitors this year are from outside Germany and that more than 60 countries will be represented at MEDICA 2011 is an indication of the extent of the intense global competition. A strong exchange of goods characterises the market. Over half of the globally manufactured medical devices, products and instruments is destined for export.
With more than 600 exhibitors and 11,300 square meters of booked floor space, the parallel trade fair for the supplier market in medical manufacturing, COMPAMED 2011 (16 - 18 Nov.), is also seeing an increase in bookings (2010: 568; 10,400 m²).
MEDICA and COMPAMED will again occupy the entire Düsseldorf Trade Fair premises with its 19 halls. Their unique combination represents the entire process chain and the complete range of medical products, devices and instruments.

For more information on individual events at MEDICA, the exhibitors and their products visit http://www.medica.de.
For information on COMPAMED visit: http://www.compamed.de