The future is digital
Agfa HealthCare is ready for a new dimension of digital radiography
At ECR healthcare manufacturers not only introduced the latest products, but also the future technologies and trends that will have an impact on the market in the coming years.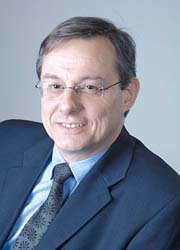 Radiology would not be the innovation driver in medical technology without the hard- and software behind it, and as a result, it was no surprise that digitisation was again one of the hottest topics in Vienna.
With the launch of its new, direct radiography family, DX-D, at ECR, and at the German Radiology Congress (DRK) this May, Agfa HealthCare responds to hospitals transformation from traditional film/cassette business into the digital world with Computed Radiography (CR) and Direct Radiography (DR). 'We are expanding our offering beyond CR with the new DX-D line for DR solutions because we feel the time to access direct radiography is now,' says Christian Reinaudo, President of Agfa HealthCare.
With over 19,000 CR units installed to date, Agfa HealthCare already enables hospitals and healthcare facilities to switch from analogue to digital, and eventually to fully fledged IT solutions for diagnostic imaging. Thanks to its high image quality and potential for dose reduction, specifically with its DX-S system that delivers DR quality results in a CR unit, Agfa HealthCare observes a growing acceptance for digital radiography solutions. The main advantage of direct radiography – as the name indicates – is its instant visualisation of images without any need of processing. While CR already accelerates the workflow in the radiology department compared with conventional methods, it still includes manual work steps – with DR everything is automated. Because the detectors of the DX-D solutions are delivering almost real-time previews on the workstation and very fast cycle times, productivity is pushed to the maximum.
That's why Christian Reinaudo and his company believe that despite, or even more so because of the financial and economical pressure on hospitals, the demand for DR will increase. 'The global economic downturn may slow down the transition to digital radiography, but it will not stop it', he says, optimistically. 'Our company is present in both the consumable business producing medical film as well as in the investment business with digital radiology and IT projects, and this puts us in a good position. Besides, most people already begin to understand that a targeted optimisation of medical technology and equipment leads to cost savings in the long run. Therefore, to push ahead the progress, affordability of DR solutions is definitely one of our main goals.'
The first member of Agfa's DR family, comprising both single detector and multi detector configurations, will be the DX-D 500, which was specially designed for high-volume departments and imaging centres as well as emergency departments right up to paediatric. It is a direct image system that yields immediate previews on the acquisition workstation. The system configuration is adaptable to almost any facility's specific diagnostic needs. When a specific type of examination is selected, the appropriate X-ray settings are automatically transferred and displayed on the X-ray generator console. For full flexibility it also can be combined with a CR room, as a hybrid solution. The NX touch-screen workstation and the MUSICA2 gold standard image processing software have been adapted from the company's CR system but have been specifically tuned for DX-D, resulting in the same look and feel of the image and the same workflow on the workstation. The system communicates seamlessly with PACS, HIS and RIS. With the same look-and-feel of the different components an efficient and user-friendly workflow is achieved.

DX-D 500 availability: mid-2009.
More on the subject:
More on companies: