Article • More than the sum of their parts
The benefits offered by hybrid imaging
Former ESR President Katrine Riklund will explore the clinical applications of hybrid imaging in a virtual session for the European Congress of Radiology 2020. She will discuss a number of common indications of hybrid imaging in areas of oncological diagnosis, the indications and limitations of hybrid imaging in common diseases, and the added value of hybrid imaging.
Report: Mark Nicholls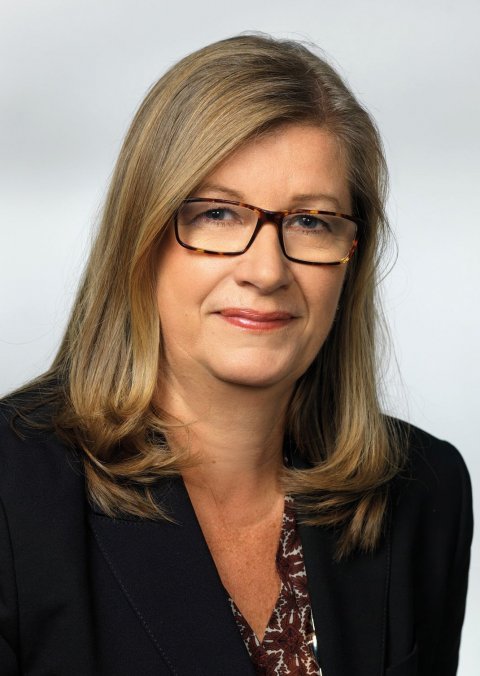 "The major benefit of hybrid imaging is that you will have both molecular and structural information from the same examination," said Professor Riklund, who is Pro Vice-Chancellor of Umeå University and Professor/Senior Consultant Radiology and Nuclear Medicine at Umeå University Hospital, Sweden. "The molecular changes often appear before the structural changes are visible. This can be used to increase diagnostic accuracy or be of use at early treatment evaluation. Furthermore, some diseases leave indolent tissue or a fibrous scar, with the PET part of the indolent tissue able to be differentiated from active tumor."
Speaking to Healthcare in Europe ahead of her presentation on July 15, she explained that if using the tracer fluorodeoxyglucose (FDG), the usefulness and diagnostic accuracy depends on the changes in metabolism in the tumor compared to normal tissue, and also on the size of the tumor. "Many tumor types do have increased glucose consumption and metabolism and can be visualized with the tracer 18F-FDG while other growth slow and do not have enough uptake of FDG to be seen," added Professor Riklund. "This counts for neuroendocrine tumors and some mucinous tumors. If other PET tracers are used the benefit varies with the expression of for instance receptors or certain proteins. These can be somatostatin receptors in neuroendocrine tumors or prostate specific membrane antigen in prostate cancer."
In addition to these three tracers, she noted that several others are in use to visualize more or less specific changes of a disease. During her presentation, examples she will include examinations from the most common oncology diagnosis and some other that are not so common but where added value is achieved with hybrid imaging. In focusing on the indications and limitations of hybrid imaging, she said the common indications are characterization, sometimes diagnosis, most often staging, evaluation of therapy, both early as well as at the end of treatment, and detection of recurrence.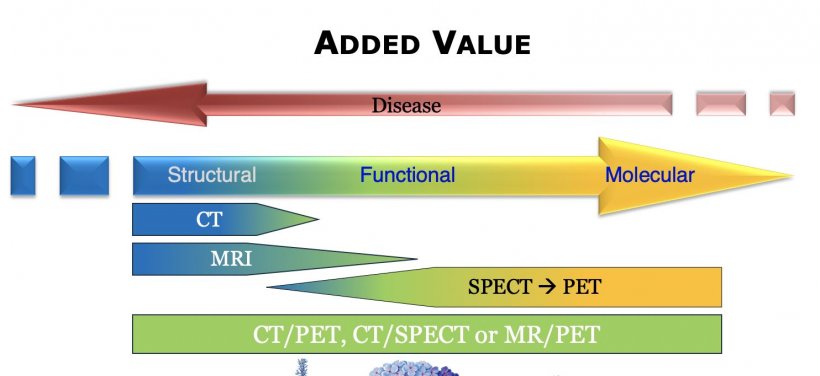 Meanwhile, the size, the increase of metabolism, presentation of receptors or proteins can limit the accuracy. "Inflammation also gives rise to increased sugar consumption and can cause false positive uptakes that can be mistaken as tumors," she continued. In terms of the added value of hybrid imaging, she points to a "high diagnostic accuracy and early detection as well as differentiation between indolent and active tissue."
While PET/MR is a current trend in hybrid imaging, Professor Riklund said its full usefulness and clinical indications are not yet realised and that more research is needed in this area. "There is always a trend to develop new tracers to visualize specific molecular changes in diseases," she added. "On the technical development more sensitive detectors, large coverage during examination is under development. As for other imaging, AI is also trending in hybrid imaging."
The key take home message for delegates is the broader usefulness of hybrid imaging in different diagnosis. Other aspects of the session will focus on the indications, limitations and pitfalls for thoracis pathologies and for abdominal and pelvic pathologies.
Profile:
Professor Katrine Riklund is Pro Vice-Chancellor of Umeå University and Professor/Senior Consultant Radiology and Nuclear Medicine, Umeå University Hospital, Sweden. A Past president of the European Society of Radiology, the European Society of Hybrid Medical Molecular and Translational Imaging, the Swedish Society of Medical Radiology and the Swedish Society of Nuclear Medicine, her research interest is hybrid imaging in colorectal and prostate cancer as well as hybrid imaging in cognition.