The 31st ISICEM
22-25 March 2011, Brussels
Jean-Louis Vincent, Chairman of the Dept of Intensive Care, Erasme Hospital, Université Libre de Bruxelles, welcomes visitors to this year's International Symposium on Intensive Care and Emergency Medicine.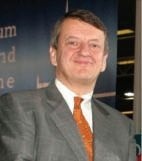 The 31st ISICEM will open its doors early on March 22 2011 for four exciting days packed full of all the latest developments and news in the world of intensive care and emergency medicine. Housed in Square, the new meeting centre right in the heart of Brussels, this annual event will welcome more than 6,000 participants from around the globe. With standard presentations, tutorials, pro-con debates, round tables, meet-the-expert sessions, and interactive quizzes, faculty and participants will have plenty to keep them busy!
One of the important aspects of any large meeting of this kind is the rapid transmission and dispersion of results of new clinical trials. As a brief taster of this year's meeting, I would like to highlight some of the recently completed important clinical trials, the results of which will be presented for the very first time during this symposium.
One study that is certain to generate some heated discussion and controversy is the multicentre French study of stress-dose hydrocortisone in patients with severe trauma. Moderate dose corticosteroids have been suggested as being beneficial in patients with severe septic shock, and some data suggest they may reduce the incidence of hospital-acquired pneumonia in patients with acute respiratory distress syndrome. But an earlier study in patients with traumatic brain injury, methylprednisolone administration did not affect nosocomial infection rates and increased mortality. So what did this study reveal?
Staying with trauma, we will also see results from the Australasian study randomising patients with severe traumatic brain injury to management with or without decompressive craniectomy. This technique decreases the high intracranial pressures often seen in patients with severe brain injury, but does it improve neurological outcomes?
Severe sepsis and septic shock are still associated with unacceptably high mortality rates and the search continues for effective immunomodulatory therapies. Eritoran blocks Toll-like receptor 4 (TLR-4), which is involved in early sepsis signalling. In a large multicentre study of 2,000 patients, the effects of eritoran administration on 28-day mortality were compared with those of placebo; but did the drug live up to expectation? Also in patients with septic shock, the results of a French multicentre study comparing the effects of albumin versus normal saline on outcomes will be presented.
Optimal nutrition in critically ill patients has been a subject of some debate for many years, with the only real agreement being that enteral feeding should be started as early as possible once a patient is hemodynamically stable. How best to ensure adequate calorie intake has yet to be determined. A multicentre study in Belgium, in which patients were randomised to enteral nutrition only for the first week of intensive care or enteral nutrition with additional parenteral nutrition from day three, aimed to provide some answers. Sedation is another hot topic and the results of a large randomised controlled trial comparing dexmedetomidine with propofol and midazolam for sedation (> 24 hours) in critically ill mechanically ventilated patients are certain to be of interest.
Finally, for the purposes of this brief appetiser, the Canadian Critical Care Trials Group conducted a study comparing the effects of low molecular weight heparin versus unfractionated heparin on prophylaxis of thromboembolic events in critically ill patients. Deep vein thrombosis is a recognised and important complication of critical illness, but again the optimal means of preventing it is uncertain, so this large study was designed to clarify the role of these two commonly used thromboprophylactic agents.
Whatever the results of these studies, they provide important additions to the evidence base in critical care and emergency medicine, and I am sure will be the topic of heated discussion both in and out of the meeting arena during our 31st ISICEM.