The 2008 BDU Company Award
The BDU (German Association of Management Consulting Firms) has presented annual business awards for outstanding achievements, one to German companies and one to German managers, since 1994.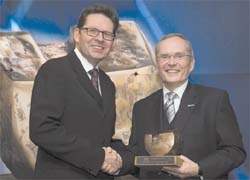 This year's Company Award was won by B. Braun Melsungen AG, for products that 'are instrumental in shaping the German and international healthcare markets', said Antonio Schnieder, who presented the award to B. Braun Board Member Dr Heinz-Walter Große.
The BDU panel of judges – BDU President Antonio Schnieder; former Presidents Prof Roland Berger, Jochen Kienbaum, Rémi Redley,
Prof Tom Sommerlatte and Malte W Wilkes – concluded that B. Braun showed 'innovation leadership in many fields of medical care', 'outstanding dedication to quality', and has an 'exemplary, family-friendly personnel policy'.
In addition to B. Braun, the BDU singled out Peter Kowalsky, head of Bionade GmbH, who was presented with the association's Manager Award in recognition of his innovative activities. A qualified brewing engineer, his Bionade range of organic soft drinks propelled his small, struggling family brewery to a place among Germany's leading beverage manufacturers.