Article • Controversy
TAVI is approved for lower risk patients
The Medtronic CoreValve Evolut R System received its CE Mark of approval this August to treat aortic stenosis in patients with an intermediate risk for undergoing conventional surgery for a valve replacement. This is a controversial indication for transcatheter aortic valve implantations (TAVI) – one that has been eagerly sought by some clinicians but resisted by others. Younger patients will receive artificial valves shown to degenerate at five years for half of all patients.
Report: John Brosky
Medtronic announced its next-generation Evolut valve was granted regulatory clearance in Europe for cases where a decision to go ahead with the procedure is made by an interdisciplinary heart team.
Meanwhile Edwards Lifesciences, the dominant provider of TAVI devices in Europe, reported to investors that it filed for a CE Mark to expand into this same indication with its Sapien 3 TAVI valve in the second quarter of 2016, and that it expects approval in late 2016 or early 2017. In the Medtronic announcement Professor Eberhard Grube MD, director of the structural heart programme at the University Hospital in Bonn, Germany, stated: 'The highly-anticipated intermediate risk indication marks an important milestone for the industry as we look to safely expand TAVI access to younger and less sick patient populations.'
A Medtronic spokesperson told European Hospital that 'A majority of the patients treated with TAVI in Europe will continue to be of the extreme and high-risk patient populations, but expanding the indication for the CoreValve Evolut R system will help heart teams provide excellent clinical outcomes for broader indicated patient populations.'
TAVI procedures currently hold a 37% share of the market in Europe, against traditional surgical aortic valve repair (SAVR) according to estimates from Wells Fargo Securities. Medtronic devices are used in 31% of those procedures against a 52% share for Edwards Lifesciences. The opportunity to expand TAVI penetration with the indication for a vastly larger population of patients at intermediate risk for SAVR is not known, though widely expected to be significant.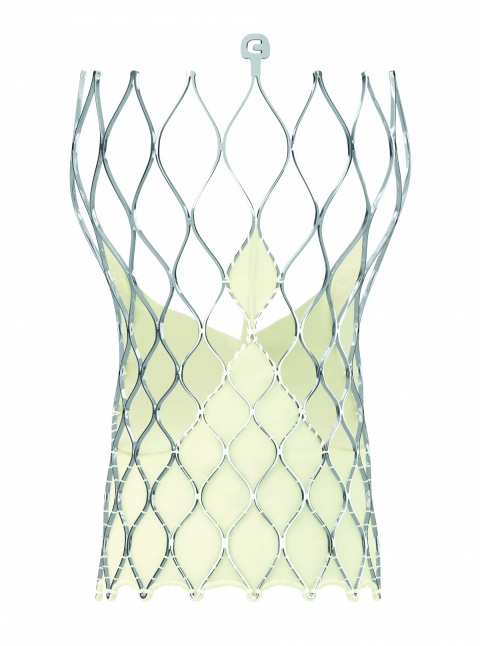 Evidence from head-to-head clinical trials has indicated that SAVR and TAVI are fairly evenly matched for efficacy, though with different complication profiles. Traditional surgery poses a greater risk for bleeding, kidney damage and the onset of atrial fibrillation requiring a pacemaker implantation. TAVI has struggled against persistent paravalvular aortic regurgitation and a high pacemaker implantation rate.
Yet, for patients at lower risk for traditional surgery, who tend to be younger, the key concern among clinicians is the durability of the valve leaflets on TAVI devices. SAVR valves have a long history regarding durability that stretches to 25 or 30 years.
Yet, little is known about the durability of TAVI valves that were first introduced in 2002 and did not reach a significant patient population until 2007. Unlike surgical valves, the delicate valve leaflets for TAVI devices are squeezed, or crimped, to fit into the catheter that snakes through the femoral artery. Once in place, the valve stent holding the leaflets is expanded.
Placing a prosthesis that is expected to last eight years in an 80-year old patient at high risk for surgery has been seen as a benefit for extending the patient's life from an expected one year out to eight years, which is widely accepted as being the expected limit of TAVI valve durability.
The question of placing the shorter-term TAVI device in a 70-year-old patient who could undergo surgery and receive a time-tested SAVR valve is at the heart of the current controversy. The extension of TAVI to lower risk patients was the focus for The Great Debate in May 2016 at EuroPCR, which pitted three leading clinicians on either side of the question.
The debate at EuroPCR quickly centred on valve durability because earlier the same day, at the same congress, results from the first effort to study valves beyond the three- to five-year follow-up in manufacturers' studies was released. Danny Dvir MD from St. Paul's Hospital in Vancouver, Canada, effectively punctured the balloon of TAVI enthusiasm with a report titled 'A First Look at Long-Term Durability of Transcatheter Heart Valves: Assessment of function up to 10 years after implantation'.
Among the 378 patients enrolled, Dvir reported that the median time to degeneration of the implanted valve was five years, and at eight years, some form of valve degeneration affected half of all patients with early TAVI devices. 'Everyone should know there is the phenomenon of valve degeneration, so that when we target younger patients, the lower risk patients who may survive longer, their valve may fail,' he advised.