Ultrasound
Taking a look over your shoulder
As a former top-flight athlete with the French national gymnastics team, physiotherapist Luc D'Asnières de Veigy appreciates the value of rapid diagnosis, treatment and rehabilitation following an injury. A specialist in the treatment of shoulder disorders, he explains how using point-of-care ultrasound systems helps in his day-to-day practice at Monte Carlo Joint Repair.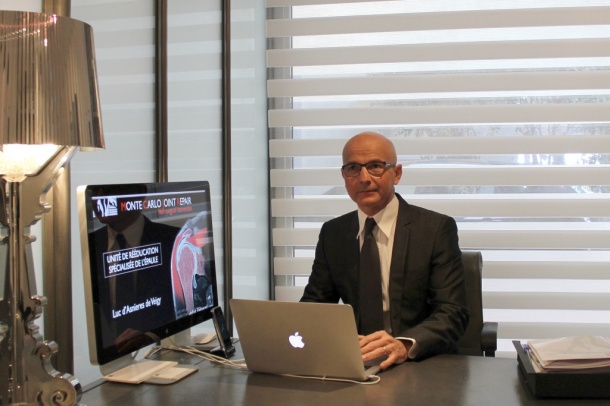 I did my physiotherapy training in Paris, studying at the National School of Physiotherapy and Rehabilitation run by the Saint Maurice Hospital, l'Ecole de Kinésithérapie du Ministère de la Santé à PARIS. After qualifying, I returned to my previous base at PÔLE France de Gymnastique d'Antibes, this time as a physiotherapist rather than a gymnast, overseeing the medical coordination and monitoring of the athletes. Upper limb disorders are commonplace among gymnasts, and I developed a special interest in this area. In collaboration with Professor Boileau, a well-known surgeon specialising in shoulder problems, I investigated gymnastic technopathies, studying sports biomechanics and over-use injuries. I was also involved in setting up BioProfile, a manufacturer of upper limb implants. This allowed me to perfect my skills in biomechanics and biomaterials before starting my own independent clinic, Monte Carlo Joint Repair, in Monaco.
I see between 18 and 20 patients a day and, in the 25 years I have been in practice, have treated around 8,000 shoulders! Initially, I planned to invest in an inexpensive shock wave scanner, but then I discovered SonoSite's MicroMaxx®, a relatively compact, portable instrument that is ideal for assessment of musculoskeletal disorders. SonoSite was very supportive, helping me with training, and the system provided top quality imaging. I was converted, and have been using the MicroMaxx for about seven years now – it is a really good instrument.
Everyone practicing at the clinic – myself, another physiotherapist specialising in spine and lower limb disorders, and an osteopath – uses ultrasound. Patients are fascinated by the way an ultrasound scan allows their condition to be instantly assessed. Frequently, the patient has consulted a general practitioner, been referred for a specialist examination and then, after waiting for the report, sent to a physiotherapist for treatment. When they come into the clinic and we perform an ultrasound examination, instantly making an assessment of their condition, they are amazed. They realise straight away just how much time can be saved, and often say that they will go directly to the physiotherapist next time!
Although many people know how to use ultrasound, until recently, physiotherapists in France have not been allowed to engage in diagnostic scanning. Consequently, very few have experience in this field, despite ultrasound having an important part to play in the assessment and treatment of musculoskeletal problems. The result of an ultrasound scan can help to guide the most appropriate treatment pathway for the patient, as well as indicating whether a particular treatment is suitable, or needs to be adapted. For instance, if dislocation of the biceps tendon in the shoulder is observed, then rehabilitation is not appropriate at that point in time. On the other hand, if a condition such as bursitis is indicated, then physiotherapy is recommended. In addition, progress can be monitored during treatment, enabling improvement – or regression – to be determined. By validating the treatment in this way, involving the patient in discussions about their therapy, you also tend to get better compliance with the rehabilitation programme.
Having a supplier you can rely on is just as important as the quality of the ultrasound instrument, and what I really appreciate is SonoSite's commitment to training; the online videos are excellent. The company has also been very encouraging, for example finding technical solutions to automatically transfer images to OsiriX imaging software on a Mac computer via WiFi. Currently, I am evaluating SonoSite's X­Porte® and M-Turbo® systems; the image quality is exceptional, enabling tiny structures and even small fractures to be seen. For me, using the X-Porte is like driving a Porsche or a Ferrari, it's a completely different world that allows me to develop this very useful daily activity.
More information on www.sonosite.co.uk.
Source: FUJIFILM SonoSite Ltd
More on the subject:
More on companies: