Surgical staplers
Mechanical suturing tools are an indispensable part of modern surgery. Gastro-intestinal surgery as well as minimally invasive surgeries, would be unthinkable without this technology, a growing sub-market in an ever-growing industry, possibly driven by the patient's benefit, writes Holger Zorn.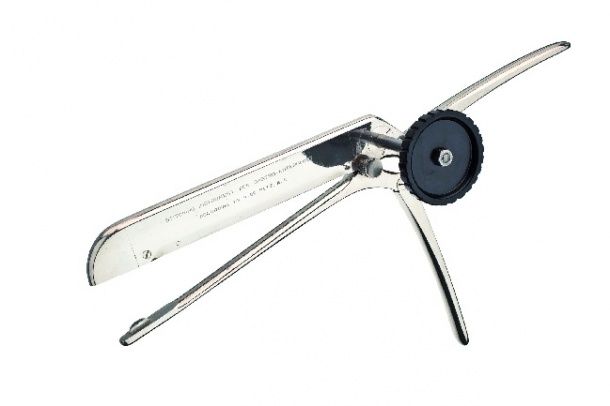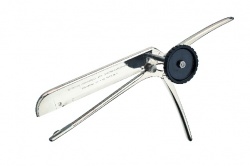 The idea to use something to stitch wounds together is probably as old as surgery itself. In ancient Egypt, around 2000 BC, ants were placed on wound edges. When their mandibles penetrated the patient's skin, their body was detached, leaving the head with mandibles in the patient's tissue. Thus, the first surgical clip was a bio-product.
In 1921, Hungarian surgeon Aladar von Petz enhanced the first surgical sewing machine, invented in 1907 for gastrointestinal procedures by his compatriot Huemer Hueltl. Petz built the 'Petz', manufactured by Aesculap in Tuttlingen for over 80 years. 'I designed the gastro-intestinal suturing instrument in 1920, while working as an assistant professor,' he wrote (Dig. Surg. 2002;19:393-9). 'The idea stemmed from the surgeon's need to open the digestive tract with its highly contaminated lumen, thereby risking consequent peritonitis with its associated increase in mortality.' Thus he gave the reason for surgical stapling that is still valid today.
The Petz apparatus had to be filled each time with staples by a nurse. Today's devices are mostly preloaded disposables. This progress is based on a 1960s Russian invention from Moscow's Scientific Research Institute for Experimental Surgery. In the USA, Leon C Hirsch bought the patents, founded the United States Surgical Cooperation and manufactured those staplers under the AutoSuture brand – today part of Covidien.
Surgical staplers can be divided into four groups: linear 180° and 90° instruments, circular and endoscopic. The staple line may be straight, curved or circular – depending of the type of anastomosis (field of resection). The staples are mostly made of titanium, due to less immune reaction and, being non-ferrous, MRI compatibility.
At Covidien, Dirkjan Doyen, Marketing Director for Endo Stapling Europe, explained: 'Linear staplers have applications in abdominal, gynaecological, paediatric and thoracic surgery for resection, transection and creation of anastomosis. Circular staplers have applications throughout the alimentary tract, to create end-to-end, end-to-side and side-to-side anastomoses in both open and laparoscopic surgeries. Staplers designed for laparoscopic use are longer and thinner than those for open surgery and can be rotated and articulated.'
Staplers consist of a handle/grip in different shapes, forms and sizes, depending on their functionality, and are loaded or pre-loaded with staple cartridges. These cartridges contain two or more staple rows. Between these rows, a knife blade is mounted to enable cutting and stapling (mechanical suturing) in one step. When the stapler is correctly placed, targeted tissue is positioned within the stapler jaws and then the firing sequence takes place. Staples are fired and formed and closed during the firing process. Simultaneously, the knife blade cuts through the tissue to separate it, the staples at both sides of the cutting line penetrate the tissue and are formed. Thus, the wound edges are compressed and stapled (sutured) and the small blood vessels are also closed during the stapling process.
Enhanced products to optimise efficiencies and compression during open surgery were recently launched by Ethicon Endo Surgery (EES). The Linear Cutter 55/75, for example, employs a novel 3-D staple technology that produces angled, parallel staple legs that overlap, unlike traditional surgical staples. Six staple rows, instead of four, combined with selectable staple heights, in one cartridge provide superior haemostasis.
The market for surgical staplers is very sensitive. On the one hand the number of uses is increasing; on the other, competition is tough. A variety of manufacturers from the Far East is trying to break the existing duopoly. Also, some hospital service providers offer refurbishing and re-sterilisation of originally single-use devices, but they give no warranty to the hospital – probably why there are few reliable figures.
In 2007, MedMarket Diligence, LLC, the California-based publisher of medical technology market and assessment reports, analysed the European wound closure market: The proportion of staplers is $151,000,000 and represents 45% of the total market volume. Patrick Driscoll, the company's founder, predicts $248 million in 2013 – a compound annual growth rate of 1.2% (Source: MedMarket Diligence, LLC, Report #S180 'Worldwide Surgical Sealants, Glues, Wound Closure and Anti-Adhesion Markets, 2008-2015', pub: October 2010). In contrast, independent suppliers of supplemental products for both large stapler manufacturers estimate the annual market volume to €300,000,000 in Germany alone.
Patient's benefit in one indication is currently under evaluation by the randomised, controlled multi-centre DISPACT trial to compare surgical stapling versus hand-sewn sutures as the closing technique after resection of the left pancreas. The study aims to determine which operative technique results in the lowest risk for one of the most common complications – pancreatic fistula. Both of these surgical operations remove the diseased section of the pancreas, the pancreatic tail. This partial organ resection can be carried out with a traditional scalpel and closed with a hand suture, or performed in one step with a stapler.
In the study, the Ethicon TL60 was used, a linear stapler that delivers two staggered rows of titanium staples for a 60mm long suture and which may be reloaded three times for a total of four firings.
Markus K Diener MD, study coordinator at Heidelberg university hospital, said: 'Both techniques are frequently used, standard surgical techniques. However, until now it hasn't been clearly shown which of these techniques has the lowest risk for the occurrence of pancreatic fistula.'
With 450 patients in 21 centres throughout Europe, enrolment was completed in June 2010. 'We are very busy preparing results of the primary endpoint pancreatic fistula, which will be ready for presentation shortly,' Dr Diener confirmed. EH will stay tuned to answer the question of whether a benefit for patients can be proved --whether a win-win situation exists.