SuperPACS TM Architecture
A familiar dilemma spans healthcare institutions and services worldwide: the means to access an increasing image and data volume on more workstations at an increasing number of locations.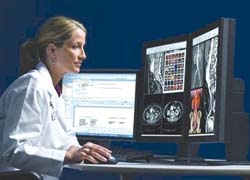 What today's healthcare personnel need is a super communication system and, ideally in terms of hospital budgets, one that will seamlessly integrate existing systems.
This explains the interest in a new offering at the Carestream Health stand at this year's European Congress of Radiology in Vienna. The company was exhibiting its SuperPACSTM Architecture, a 'work in progress' that can integrate and match data from different manufacturers' systems and modalities and distribute that information to workstations located within a hospital or beyond – all without incurring additional investment in a new PACS and storage devices. By synchronising disparate PACS, images and reports can be automatically returned to the original PACS or RIS for local storage and distribution. The ability to create a global work list and apply intelligent rules will provide the ability to balance the workload, so that examination captured throughout the institution can be read by radiologists in any on- or off-site location.
The intelligent architecture, which supports multiple patient identification numbers using IHE profiles, also equips radiologists with PowerViewer, which contains a unified set of powerful diagnostic tools. It enables real-time volume matching and automatic registration for CT, MR and PET/CT images. When examining a patient's case, results from different modalities can be matched easily and the images even adjusted to a certain angle to ensure the same perspective in each.
In summary, the PowerViewer:
• Builds a single virtual study with real-time volume matching of all relevant studies (new and previous) to automatically register and synchronise them in one click.
• Provides new native PET/CT reading with tools for image manipulation, including fusion, synchronised views, standard uptake value and volume matching comparison of current and prior cases.
• Offers the ability to save a 3-D view as a bookmark, so that this can be shared easily by several specialists located in different departments or areas.
SuperPACS Architecture from Carestream Health will next be on show at the German Congress of Radiology (Berlin, 20-23 May), and available to order in the second quarter of this year.