Article • Home monitoring
Success for pacemaker recipients
Biotronik's Home Monitoring is an award-winning remote cardiac monitoring system that automatically collects data from a patient's cardiac device, enabling the physician to review cardiac function independently of in-office visits.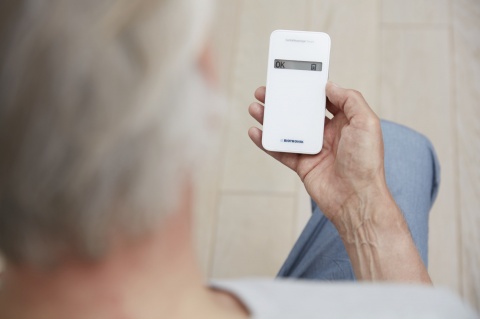 According to results published from the TRUECOIN randomised controlled trial, the system reduced the risk of all-cause mortality by 38 percent in ICD patients after one year, and there was a 36 percent reduction in the combined risk of all-cause mortality and hospitalisation for worsening heart failure. The meta-study pooled the results of 2,405 patients from the TRUST, ECOST and IN-TIME trials.
Trust included 1,339 ICD patients randomised 2:1 to remote monitoring or conventional follow-up at 102 centres, concluding that Biotronik Home Monitoring reduced in-office visits by 45 percent. Ecost showed how continuous monitoring reduced the rate of patients who experienced inappropriate shocks by 52%.
In-Time researchers evaluated heart failure (HF) patients with the remote monitoring system, demonstrating a 50 percent decrease in all-cause mortality in ICD and CRT-D patients with symptomatic HF. This is the first randomised trial to demonstrate a benefit in terms of all-cause mortality in remote monitoring. Based on these results, the European Society of Cardiology recommends remote monitoring according to the In-Time approach for this patient group in its latest heart failure guidelines.
Dr. Gerhard Hindricks, Director of the Electrophysiology Department at University of Leipzig Heart Centre, Germany; President of the European Heart Rhythm Association and lead investigator of Truecoin and In-Time said: 'Both studies' results show that Biotronik Home Monitoring leads to improved clinical outcomes for patients. I believe this is due to differences in manufacturers' technology, the data collected and clinic workflow.' 'The system is the only remote monitoring system on sale that is clinically proven to notably reduce risk of all-cause mortality in ICD patients,' Biotronik points out.
'To ensure efficacy of remote monitoring,' Hindricks emphasised, 'frequent data transmission, quality data, and appropriate responsive treatment pathways from physicians are essential.'