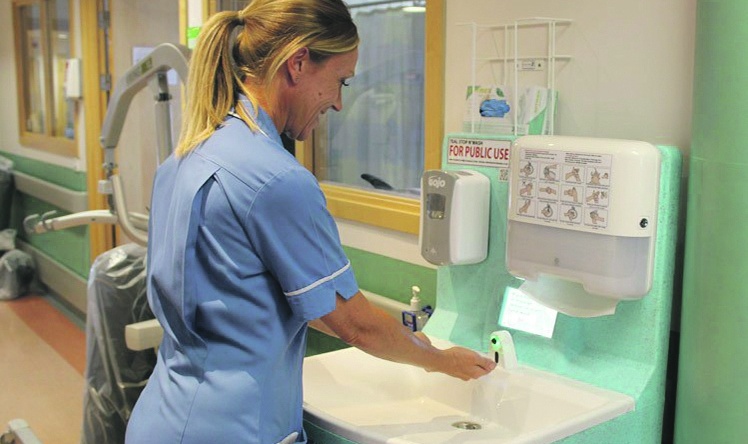 Source: TEAL
News • Hygiene campaign
'Stand up for Handwashing'
Poor hand hygiene is a global problem. Washing hands with soap, under warm, running water is the single most important measure for preventing the spread of germs and infections.
TEAL Patents – the world's leading manufacturer of portable, hot water, hand washing units – has launched a campaign asking the world to 'Stand up for Handwashing' and break the myths surrounding hand gels. Although some international healthcare establishments are reliant on hand gels, they do not remove germs or clean hands. Hand gel sanisiters are not as effective in infection prevention and control as people are led to believe. Manty Stanley, managing director at TEAL Patents, says: "We want everyone in medical environments across the world, including staff, patients and visitors, to understand the importance of handwashing and know how to sanitise their hands correctly. That's why we're launching our 'Stand up for Handwashing' campaign.
It's our duty to dispel the myths surrounding hand sanitising gels

Manty Stanley
"It's our duty to dispel the myths surrounding hand sanitising gels. They are a thing of the past. The only effective way to remove germs is through the gold standard of hand hygiene – washing hands with soap under warm, running water. With everyone standing up for handwashing, effective hygiene procedures will be implemented to provide a worldwide solution."
In line with its 'Stand up for Handwashing' campaign, TEAL Patents has launched the Hygienius MediWash. Fully compliant with World Health Organisation guidelines, the Hygienius MediWash includes an on-screen, digital, synchronised display which takes users through an automatic handwashing programme. Completely self-contained, with no drainage connections required, the Hygienius MediWash is highly portable and can be taken to the point of need. Touch-free, the robust Hygienius MediWash carries up to 80 hand wash cycles per filling ensuring it is highly efficient in its water usage.
TEAL Patents has been working with UK infection control departments for over 15 years. Having developed a range of mobile and portable hand wash basins and sinks, each TEAL unit requires no access to mains water or drainage so it can be easily located at the point of need.
For further information, please visit: www.tealwash.com.
Source: TEAL