Article •
Spanish hospital checks vital signs remotely
Not having to visit hospital daily, or stay there too long, can improve the lives of patients tremendously. The Vic Hospital Consortium, in Catalonia, Spain, has begun to use a new remote monitoring system that enables it to monitor patients wherever they are. European Hospital spoke with Enrique de la Vega, digital product manager at Catalonia's technology centre Eurecat, the organisation behind the tool.

Interview: Mélisande Rouger
Which vital signs does it help to monitor?
'We can monitor glucose, tension, pulse, weight, hydric balance, oxygen saturation in blood, and information send by activity trackers and wearables, as well as d information about patient's well being through personalised questionnaires. Patients can also take part in virtual sessions using the videoconference module.
'We estimate eKenku will be able to follow 100 patients a year, whether they take part in clinical studies for pharmaceutical companies or suffer complex chronic illness and need monitoring for a few weeks, or months, to avoid readmission to hospital and reduce hospital stay. These patients may have suffered acute episodes or had to prepare or recover from surgical interventions. Opportunities for adequately equipped hospitals, pharmaceutical groups, insurance companies and clinical research institutes are huge.'
What are the first results?
'Ekenku was launched a few months ago and currently monitors 30 patients; we expect it will follow 50 by the end of the year. The product's introduction has been a success both with patients and healthcare professionals, and we have received feedback about its high reliability and quality. Following the data brought by eKenku the medical team can work out new scenarios to assist patients and this is will determine the future evolution of the tool.'
What are your projections?
The capacity to generate savings for the healthcare system is huge and type of solution will be a key element to sustain the system in the future.

Enrique de la Vega
'We want to offer the service to more hospitals and patients with different pathologies next year. We will also offer more features. The curiosity from healthcare professionals is very high, since many have taken a growing interest in telemedicine over the past few years. However, management and organisation in a hospital are not aligned with remote patient monitoring and virtual assistance; healthcare actors do not understand the deployment of a product such as eKenku equally. Further development must be based on positive results and there must be a return on investment, which we estimate will take about six months. The capacity to generate savings for the healthcare system is huge and type of solution will be a key element to sustain the system in the future.'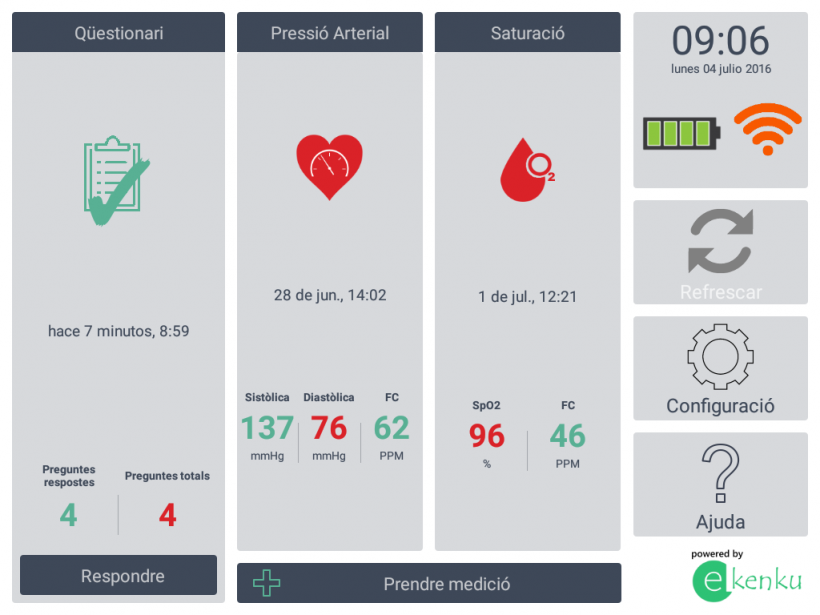 Can you ensure patient data remains safe if, for example, the tablet is stolen?
'We avoid having personal data within the devices; the tablet is linked to a specific patient and the information stored within it is referenced with a code, which is not sent to anyone outside the security of healthcare networks. So, if the device is stolen, or another user tries to access the information, no patient reference will be found.'
What benefits a patient as well as healthcare providers?
'For patients the benefits include reduction in hospital stay and life quality improvement, because they don't have to visit the hospital. People have a direct and rapid access to doctors whenever needed. Doctors can work better in the case of an emergency, because they receive the information earlier. Treatment adherence also increases and clinical follow up is more precise. Finally eKenku monitoring helps us to reduce costs and empowers patients.'
What are the challenges to ehealth in Spain?
'In Spain healthcare works in a very dispersed fashion and, despite ongoing efforts to integrate the clinical history and improve processes, a lot of work remains to be done regarding continuous care and data access and management.

Profile:
Enrique de la Vega is digital product manager in knowledge transfer at Eurecat. A telecommunications graduate from Madrid Polytechnic University (2005), he gained a master's degree in biomedical engineering at Madrid Polytechnic University and another MA in integrated projects management at the University of Barcelona (2011). Currently manages two eHealth-based products, eKauri and eKenku. Formerly a healthcare consultant and product manager supporting Phillips healthcare portfolio in monitoring, electrocardiography and obstetrics, he also had been product specialist and healthcare consultant in radiological imaged-based Alma IT Systems Company, and worked for a Catalonian Health Department initiative to develop policies and initiatives in the non-radiological image integration field.