Article • Interventional toolkit for use in space travel
Radiologists shoot for the stars, aim for the Earth
French radiologists received prizes for the best interventional radiology toolkit for use in space travel at the JFR 2022, the annual meeting of the French Society of Radiology (SFR).
Report: Mélisande Rouger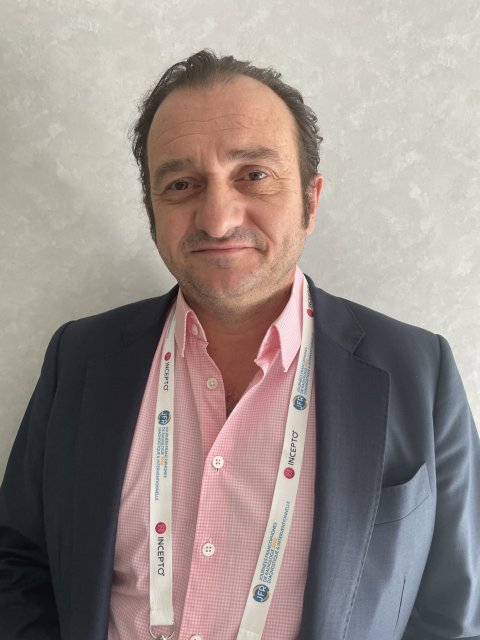 The teams from Marseille and Créteil received the awards for their solutions to carry out interventions in manned space flights, as part of the Mars IR Tool Box Challenge, an initiative led by the SFR and the National Centre for Space Studies (CNES, in French: Centre national d'études spatiales). 'A lot of work has been done here,' said Vincent Vidal, a professor of interventional radiology at Aix-Marseille University and a radiologist at Assistance Publique – Hôpitaux de Marseille (AP-HM), who coordinates the project. 'One of the interns in the competition has even done his medical thesis on the embedded space kit.'
Though unique in their approach – one of the teams even simulated an alien attack –, participants all presented boxes featuring versatile, small and light material to perform different kinds of drainage in space: needles, catheters and drains to drain a kidney with renal colic, urinary retention or a deep abscess. 'Those would be the most typical interventions that could be carried out in space – biliary drainage, vesicle puncture, etc,' Vidal said. Performing interventions in a gravity free environment is a challenge that teams had to think of at the time of designing their toolkits. 'Everything takes another very specific dimension,' he said. 'Objects float in space flights, so they have to be attached. Adding a suction system to collect the fluids when puncturing an abscess also makes sense.'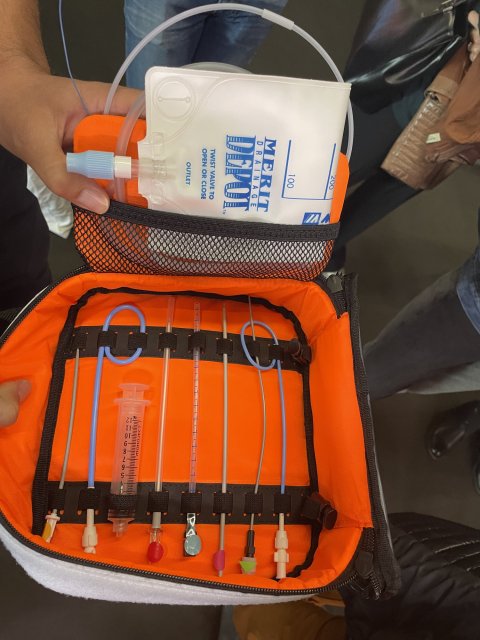 Teams will now continue to work together to create an optimal toolbox and test it in microgravity, Vidal explained. 'We've never done an intervention such as drainage in space. We have two solutions to test it on simulators: Zero-G flights – parabolic flights – or underwater in a pool.' The next step will be to distribute the box and find an industrial partner to embed the kit on a mission to the Moon or Mars. 'Our toolkit may be taken on space flights, or it may just be a small link in the chain to one day take an interventional radiology kit into space,' he said.
Another use for the box may well be on Earth, for example in the Sahel or West Africa. 'This box will be able to serve in so-called specific environments where there are only scarce resources,' said Vidal, who is also active in Fair Embo, an association to help emerging countries use interventional radiology.
Tools with a terrestrial fallout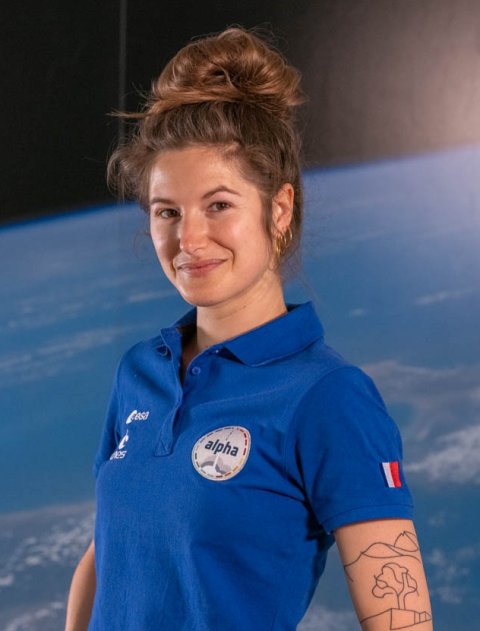 Many of the innovations developed for health in space can be translated back to Earth, according to Laure Boyer, a biomedical engineer at the Institute for Space Medicine and Physiology, who also took part in the project. 'In space, the human body ages at an accelerated pace, so many things we develop for astronauts can also be used down here,' she said. 'Spaceflight is an interesting setting to create solutions for the aging bone. Astronauts develop osteoporosis just like women on Earth as they age, or people with a too sedentary lifestyle or who are bedridden because of an injury.' The efforts for the space programme might also produce solutions for muscle problems, such as muscle atrophy, she added. 'All the developments that are done for the International Space Station (ISS) or another space station have direct terrestrial fallout.'
For example, tele-ultrasound technology was first developed in space. Space stations are traditionally equipped with an ultrasound probe, but astronauts may not have the necessary skills to operate it. Thus, experts have developed a tele-operated ultrasound device, in which the probe in space has a "twin" on earth – both devices are connected by satellite connectivity. When the sonographer on Earth watches what is happening in the ISS on video, he or she can manipulate the ISS probe remotely from the ground. 'Tele-ultrasound was developed for the ISS, but the terrestrial impact is direct. In places where we don't have an ultrasound expert on-site, for example in sparsely populated areas, tele-ultrasound can still make quality images at a distance,' she concluded.
Profiles:
Laure Boyer is a biomedical engineer at MEDES, the Institute for Space Medicine and Physiology in Toulouse, France. She is responsible for the development of innovation projects for astronauts' health and performance on future Lunar and Martian bases. Boyer graduated from the Superior Institute of Aeronautics and Space (ISAE - Toulouse) in 2012, and received her PhD in biomechanics from the Polytechnic School of Montreal in Canada in 2017.
Vincent Vidal is the head of interventional radiology in the Imaging Department at Timone University Hospital in Marseille, professor at the faculty of medicine and director of the Experimental Interventional Imaging Laboratory at the Aix-Marseille University in France. Vidal's research and clinical work are focused on embolisation and he is an active member of multiple interventional radiology societies (SIR, CIRSE, ESR, APSCVIR).