Simplifying precise urinalysis
Sysmex urine fluorescence flow cytometers offer a wide variety of clinical benefits to the user, including determination of WBC, bacteria and yeasts to exclude urinary tract infections and/or inflammations very quickly.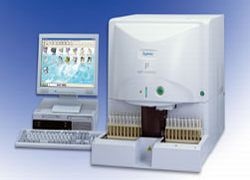 RBC count plus morphology information to give a clear hint as to the possible origin of a haematuria, and urinary conductivity as a marker for patients' diuresis status.
'Sysmex's latest urine fluorescence flow cytometer, the UF-1000i, is based on diode laser technology using polymethine dyes that specifically stain nucleic acids for sensitive particle analysis,' its manufacturer reports. 'With two separate analytical channels, UF-1000i offers selective analysis of either bacteria alone, or the full range of parameters.

'Additionally, for raised sensitivity and precision it permits the selection of a special mode for bacteria counting from an increased sample volume.'

The maker also points out that the instrument is controlled by a Windows-based 'information processing unit' (IPU) that offers the easiest operation of a UF instrument ever, and state-of-the-art information technology with large storage capacity, flexible connectivity to peripheral devices and multilingual operator software.

To extend standardisation beyond the analysis itself, the urinalysis work area management system SIS-U complements the UF-series analysers, offering standardisation also for result interpretation and the following workflow, regardless of operator, date and time.
More on the subject:
More on companies: