Sponsored • Cardiology
Simpler MR-conditional cardiac device selection
The ProMRI Configurator made by Biotronik is an online tool that enables physicians to select from a series of MRI requirements for a patient and subsequently generates a recommendation of all suitable MR-conditional cardiac device and lead combinations available in a particular country, thus helping physicians to choose the most suitable MR-conditional cardiac systems for each patient.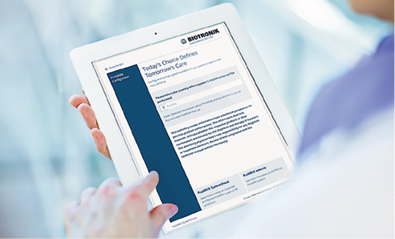 Many of the firm's implantable cardiac devices are not only MR-conditional but also take advantage of the company's award-winning MRI AutoDetect functionality, Biotronik reports. 'This feature allows a device's built-in sensor to detect an MR environment automatically (within a programmable window of up to 14 days) and to switch the device to and from MRI mode for the duration of an MRI scan. This means that patients implanted with a cardiac device can receive optimal therapy for the maximum amount of time without requiring multiple visits to their physician for manual configuration for MRI scans.'
Its portfolio of MR-conditional devices and systems is extensive, so possible combinations for physicians to select can be overwhelming. The ProMRI Configurator relieves concerns by channelling MR-conditional systems and devices into a single online platform with an easy-to-use interface. In a step-by-step process doctors are directed to possible cardiac implantation combinations for their patients' MRI needs.
The ProMRI Configurator marks the second offering of the ProMRI Check online platform that the manufacturer offers physicians. 'The first tool, the ProMRI SystemCheck, was launched in 2014 and helps physicians to determine whether an implanted Biotronik system is MR-conditional.'
This is a 'retrospective tool', the firm points out. 'The ProMRI Configurator enables physicians to be proactive in their approach – to determine beforehand the best system or device to implant based on the physical needs of the patient.'
As Manuel Ortega, the company's Senior Vice President, confirmed: 'We are determined to maximise patient accessibility to MRI scans as far as possible.'
Details: www.promricheck.com