See you in Vienna 2014!
The 25the European Congress of Radiology ended yesterday in Vienna.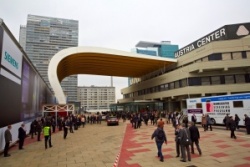 Just like in the previous years, more than 20,000 ECR participants filled not only the Austria Center Vienna to capacity but also were busy about town providing hotels and restaurants with brisk business. The Congress is renowned for its excellent scientific program and this year's offering was no exception: 1,600 presentations from all areas of medical imaging attracted a record number of listeners – an increase of eight percent over last year according to the Congress organizers. Experts from all over the world shared their research results, above all in oncology, radiotherapy, abdominal and neuroradiology as well as interventional and hybrid imaging.
Traditionally, interdisciplinary cooperation plays a major role at ECR. This year a presentation series on management of cancer patients was offered where radiologists, oncologists, hematologists and surgeons talked about the advantages of close cooperation. Another program focus addressed radiology technicians.
"I am pleased to see that with this year's congress we were once again able to promote interactivity, the active exchange of knowledge between scientists and physicians from all over the world. With our new feature 'ECR Live' not only colleagues on site but also those who could not to come to Vienna were able to follow the presentations and provide input," said José I. Bilbao, Congress President from Pamplona, Spain, summing up the event. More than 1,400 presentations were broadcast live on the internet and more than 3,000 persons had used the free-of-charge registration which allowed them to stay abreast of the recent developments in radiology without having to head for Vienna.
The next European Congress of Radiology will take place – for the 20th year in a row in Vienna – from 6 to 10 March 2014.