RSNA 2006 — Strengthening Professionalism
RSNA 2006 - that means six days of educational programmes, 1,625 scientific papers, more than 300 refresher courses and 738 technical exhibits on 514,800 square feet. The 92nd Scientific Assembly and Annual Meeting of the Radiological Society of North America (RSNA) which takes place in Chicago from 26 November to 1 December will once again be the highlight of the year for those who are in touch with radiology.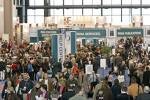 This year's theme "Strengthening Professionalism" is crucial both for participants and visitors. It is an appeal to improve the standard of care in today´s complex medical environment by communication and education. With technical innovation happening at an ever faster pace this will be the challenge for radiology professionals in the years to come.

As in recent years, attendees will receive the latest information in basic and clinical research, they will have the opportunity to participate in educational courses and to have a look at state-of-the-art techniques and technologies used by radiologists. The topics range from cardiac radiology and MRI to ultrasound and head & neck imaging. Making its debut this year is the Molecular Imaging Zone where all molecular imaging exhibits and posters will be grouped.

Visitors will find all relevant innovations and updates in the field of CT, MRI, interventional radiology and special procedures as well as in nuclear medicine, therapeutic radiology and information systems.

In 2006, the organizers of the largest annual medical meeting in the world expect far more than 60,000 visitors from 100 countries at McCormick Place in Chicago. For further information please go to www.rsna.org.