The ultimate in ultrasound
A joint meeting combining the Euroson and Three Countries congresses creates a veritable European summit on the state-of-the-art in ultrasound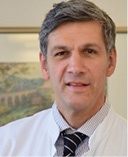 Always considered the orphaned child of radiology, ultrasound is growing up fast, expanding so rapidly that even experts find it difficult to keep up with developments.
By joining forces, the leading professional societies for ultrasound in medicine hope to create a comprehensive conference to survey advances in the science while also offering intensive, hands-on training and education.
From 9-12 October 2013 Stuttgart will welcome the 25th Euroson Congress and the 37th Dreilaendertreffen, or Three-Country Meeting, together representing over 30,000 members.
Pioneering research in oncology and neurology with ultrasound imaging will be presented respectively by Nathalie Lassau MD and Daniela Berg MD.
Also to be presented, the PRIMUS study, demonstrating how putting ultrasound expertise on the frontline in emergency means faster, better care for patients plus hospital cost savings.
Education in practice
Yet interactive learning sessions will remain a focus of activities over the four days, according to Andreas Schuler MD, who leads the organisation of the scientific programme by DEGUM, the German society for ultrasound in medicine.
'Traditionally the education component is the strongest point for the conference, whether in state-of-the-art lectures, refresher courses, or categorical courses,' he said.
The Ultrasound Learning Centre will offer practitioners an opportunity to learn though hands-on training with the 25 ultrasound systems, with experts available for one-to-one coaching, teaching and exploring how to perform specific examinations from head to toe. This year's systems will also be available for team training in endoscopic ultrasound.
Expansion of the 2013 programme to encompass 16 full-day categorical courses devoted to a single area of practice is proof of how broadly ultrasound is applied across medicine today. 'A good example is the session called, Emergency Meets Chest Ultrasound, Dr Schuler said. 'This will be about the FAST and eFAST exams, of course, but also a demonstration of how ultrasound goes beyond being a first-use imaging tool to become a strategically essential aspect of imaging.'
Often diagnosis of hospital patients can be extended over two or three days, he explained, where ultrasound can play a vital role from the first minutes.
To test this argument, the PRIMUS clinical trial enrolled more than 1,400 patients to determine the influence of ultrasound on a medical team's decisions when a diagnosis is conducted within the first 24 hours of patients arriving in hospital.
The completed study, now being prepared for publication, will be presented at the joint congress in Stuttgart.
Dr Schuler could not disclose specific finings, but noted an abstract of preliminary findings was presented at last year's Three-Country Meetings, and 'The final results continue to support the early findings… that early ultrasound helps to make accurate early diagnoses, leads to early treatment, and, significantly, avoids additional days of hospital stays.'
Significantly, the size of the patient population in the PRIMUS trial allows a study of subgroups presenting with abdominal pain, vascular disorders, chest pain or heart failure, he added.
Whilst ultrasound does not always play a decisive role with every patient, it proves very effective in these symptomatic subgroups for directing patients to the right place for the right care, and to determine those who need to be admitted and those who can be treated on an outpatient basis, he said.
Fusion and CEUS
Scientific sessions devoted to technologies and state-of-the-art lectures will try to keep pace with developments racing ahead at the speed of sound, covering new methods and practices such as elastography, contrast enhancement, imaging for ultrasound guided interventions and imaging in oncology.
Fusion imaging that combines dynamic ultrasound images with MRI or CT will be on the leading edge of disruptive change discussed at the congress. The application of fusion imaging in practice areas such as the early stages of chemotherapy also links to recent developments for contrast-enhanced ultrasound imaging, where ultrasound is now achieving the same levels of effectiveness as its bigger brothers, MRI and CT, Dr Schuler said.
Other frontiers to be explored at the congress include musculoskeletal (MSK) ultrasound that is rapidly being taken up from primary care to specialists, he added.
'In the past, if there was ever a question about MSK, the patient was sent for an X-ray or MRI. Now ultrasound is finding a place among radiologists and specialists because it provides a real-time examination that is dynamic, making it appropriate for studying the mechanics of articulations.'
Ultrasound in neurology is playing an ever greater role in neurology, he said, effective for the early assessment of markers for degenerative diseases like Parkinson's or for examining vascular structures for stroke assessment.
Where the Three-Country Meeting is traditionally German speaking, this year's joint congress with Euroson will be conducted in English, creating a unique opportunity, Dr Schuler believes. On one hand European colleagues will have access to more than 200 abstracts submitted by German scientists in the English language. And for German speaking clinicians and scientists, the international participation brought by Euroson members, with more than 150 scientific abstracts as well as state of the art lectures and refresher courses, will enrich their conference experience and exposure to developments across Europe.
Profile:
Andreas Schuler MD is head of hospital and head of the Internal Medicine Department at Helfenstein Klinik (HKS) in Geislingen, Germany. After his studies at university Witten-Herdecke and Eberhard-Karls-University Tübingen he became internal medicine (1995) consultant for gastroenterology, tumour therapy (1996), diabetology (2002), emergency medicine (2001) and palliative medicine (2007).
From 2008-2012 he chaired the internal medicine division and he is member of the German guideline board for diagnostics and therapy in hepatocellular carcinoma.