Roche - on show and within reach
Roche Diagnostics showcased its full spectrum of cobas laboratory solutions at EuroMedLab this year. Visitors were given live demonstrations and shown videos of leading products for both small and large laboratories – including workflow automation, analytics and customised IT.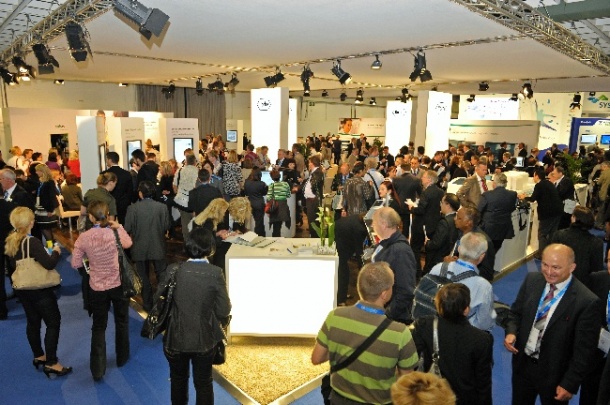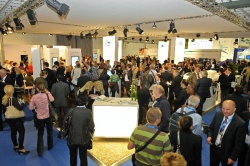 At desks with interactive screens they could virtually design their own laboratory, while large-sized digital posters gave a flip-through performance of the cobas catalogue to highlight the latest scientific testing efforts in oncology, cardiovascular, immuno diagnostics, and renal and bone health topics. A virtual histology lab tour at the booth's tissue diagnostics section focused on patient-focused solutions, while the GS Junior System demonstrated its benefits as the next generation benchtop genome sequencer for applications in applied science. Also, with the acquisition of PVT earlier this year, Roche Diagnostics presented its extended products and services portfolio with customised automation and workflow solutions for in vitro diagnostics.
Showcasing the Kolibri compact sorting system for small to medium laboratories, visitors were impressed by the integrated automation concept aligning with the cobas modular platform, the firm reports. 'Roche PVT enables clinical laboratories to reliably manage low to very high sample volumes and to arrange their lab space with unique flexibility,' explained Christoph Pedain, Head of Business Development and Project Management of Roche Professional Diagnostics. PVT and Roche have enjoyed a close partnership for over fifteen years, through which Roche has distributed PVT products, such as the RSA Pro and the RSD Pro system, in Europe, Asia and Latin America. 'Our trusted and long-term collaboration has been a key for growing success,' said Michael Ziegler, Managing Director of Roche PVT. 'At first-hand, we deliver the next generation of laboratory automation systems, now under Roche.' Elecsys vitamin D total assay is launched Utilising the Elecsys technology on cobas modular platforms, Roche Diagnostics presented the fully automated vitamin D total assay. This delivers '…robust clinical results from vitamin D deficiency detection to continuous patient therapy monitoring needs,' the firm explains.
During its expert sessions, Derik Hermsen (Heinrich-Heine-University, Dusseldorf), Jos Wielders (Meander Medical Centre, Amersfoort, the Netherlands), Robert Hawkins (Laboratory Medicine Dept., Tan Tock Seng Hospital, Singapore) and Murat Oktem (Duzen Laboratories Group, Ankara, Turkey), presented visitors with their studies and shared their clinical experiences with the latest Elecsys vitamin D total assay. 'Big laboratories need reliable assays for vitamin D analysis in order to perform high amounts of vitamin D tests in a short time period,' said Kay Brunner, Lifecycle Leader for Cardio-Renal/ Critical Care & Women's Health, Roche Professional Diagnostics. 'The Elecsys vitamin D total assay enables better clinical decision making, providing high confidence for patient results for high convenience and efficiency in laboratory medicine.'
The cobas b 123 POC system Marcel Gmuender, Head of EMEA/ LATAM Working Group Near Patient Testing, with Josef Hindinger, Project Leader cobas b 123, and Bernd Stoebel, Head of Project Management Hospital Point-of-Care, presented the cobas b 123 blood gas system during a trade press conference. 'The system is a fast, multi-parameter analyser, delivering many of the vital results that physicians need in order to make decisions in time critical situations,' Roche explained. 'It is primarily designed for use in intensive care units and in emergency departments and operating rooms.' The firm adds that the simplicity of the graphically guided user interface, coordinating all major workflows at a glance, impressed the journalists.
More on the subject:
More on companies: