Roche launch the new BenchMark® ULTRA
New equipment release from Roche
With the acquisition of Ventara Medical Systems, Roche hopes to move several steps further forward in their goal for personalised medicine that improves diagnostics and ultimately, clinical outcomes.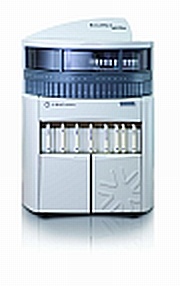 The systems acquired with Ventara mean Roche can now add tissue analysis to its impressive list of blood and serum based diagnostic tests.
BenchMark® ULTRA from Ventara Medical Systems is launched in Europe and is the new generation of in IHC/ISH staining instrumentation to improve throughput in the pathology/histology lab.
Using 30 individual slide processors, its patient centric workflow integrates continuous and random access for real time STAT processing. Turnaround times are significantly reduced, resulting in faster reporting of patient results and enabling the next generation in lean laboratory workflow. The system integrates into the laboratory information system for rapid and accurate transfer of data.
For more information see: http://www.ventanamed.com

More on the subject:
More on companies: