Robust R&D and 120 international patents
There are five big names in ultrasound that sell three out of four systems. Then there is Esaote, the biggest name among hundreds of small companies competing for a place in what is by far the largest, and most innovative market for medical imaging.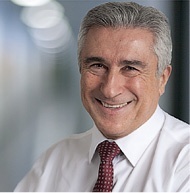 After joining Esaote last year as CEO, Carlos Alonso studied this landscape dominated by giants and came away smiling with a plan for moving the company and its 1,360 employees forward.
'The big opportunity that the big name companies are giving to us is the customer, which more and more is becoming just a number for these big conglomerates. For us, customers are the centre of our strategy,' he said.
That has not always been the case, according to his analysis. New products and technology have been the main focus with one-in-five people at the company working in research and development. Esaote can proudly claim to hold 120 international patents and the success of its products speaks for itself, earning annual sales of €325.3 million worldwide. Major research centres are found in Italy, the Netherlands and China while Esaote works with dozens of universities and hospitals in scientific and clinical collaborations.
Alonso notes that another strength of the company is a strong entrepreneurial culture that has expanded the business into dedicated MRI scanners and healthcare IT systems to manage the data. Deals and partnerships have also expanded the company's footprint to where 70% of sales are generated in international markets.
Building on these strengths, Alonso has outlined strategies for a renewed, agile Esaote that will expand strongly to win more customers in more markets.
'Esaote is going to grow from portfolio optimisation,' he said, revisiting the product pipeline, identifying gaps and creating a complete offer for global markets.
'We want to have a full portfolio with portables, with tablets, with systems from low to premium. Today I have gaps in my ultrasound portfolio for premium systems, which gives you a clue of where I would go if we were to make an acquisition,' said Alonso.
'Ultrasound and dedicated MRI with healthcare IT, that's it for Esaote,' he said, adding, 'You'll never see this company going to CT or to big MRIs.'
'In a next step we need to be sure images integrate with our healthcare IT systems for analysis, for diagnosis and good clinical decisions. Then we go to the next step, which is interventional products where we are very good, with technologies for planning, for image guidance and navigating, and for image fusion. Here is another clue. In interventional systems we are only using laser as the ablation technology. There are other technologies, radio frequency, microwave,' he said.
Face to face with customers
Another area of focus is sales and marketing effectiveness, he added, with robust go-to-market models. Which leads to his third strategic area, geographic expansion by increasing the local presence for Esaote with its distributors.
'I need everyone at Esaote to be focused on these three different strategies with the customer at the centre,' he said, products that respond to customer needs, distribution channels that reach more customers, and what he called an on-the-ground presence to bring the company face-to-face with its customers.
'The end-user of our products is the real customer. We need to focus on them, visit them. We need the endorsement of key opinion leaders, working with doctors who are satisfied customers.'
China, which has become the second largest market for Esaote after its native Italy, provides a case study for how this renewed local strategy will play out, he said: 'We hold the fourth market share position there. The challenge is how we continue to grow and maintain our market position. We plan to increase our penetration in the provincial and regional hospitals and later in very small, local clinics/practices.
'This is what we have in Russia, what we call front-end people, who have the relationships and customer information. People on-the-ground means we are looking at a market through our own eyes,' Alonso pointed out. 'It means we can sometimes help to organise the distribution lines for a single distributor, among different distributors, or even selling direct at times. This always increases sales.
'This year our priority is to create this on-the-ground presence in Scandinavia, Australia and New Zealand, and Mexico. Next year we will add three more.'
'This way, with a clear value proposition, with a clear strategy, Esaote will continue expanding internationally,' the company's CEO concluded, with palpable confidence.
More on the subject:
More on companies: