Ready for action: The 17.5 kg heart-lung machine
The world's first portable, plug-and-play system to provide hours of emergency cardiopulmonary support is now on sale in Europe. EH correspondent Holger Zorn reports
The Lifebridge B2T (bridge-to-transport) is the first, fully portable emergency life support system for patients suffering cardiogenic shock, or those showing signs of imminent cardiogenic shock.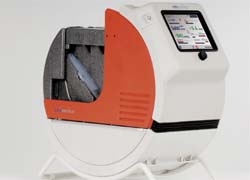 The machine ensures circulation and sufficient blood oxygenation can be restored in just minutes, thus preventing multi-organ failure leading to death. Whether in hospital or an ambulance, a patient can be connected to the Lifebridge to replace external cardiopulmonary reanimation.
First introduced in 2005 (see EH 3/2005), this equipment recently received a CE mark allowing sales across Europe. Its small size (61 x 45 x 37 cm), low weight (17.5 kg) and power supply via integrated battery make it ideal for ambulant use. The partly guided, partly automated set-up means that in five minutes it is ready for use by emergency doctors or paramedics – without needing a specialised technician.

To avoid air embolisms, seven security steps guarantee maximum patient protection. Access to the patient is either by percutaneous puncture and insertion of cannulae in vessels in the groin or, after thoracotomy, via insertion of central cannulae into the right atrium and rising aorta. Depending on the access, blood circulation of six litres per minute can be achieved, a volume that ensures adequate gas exchange and sufficient perfusion of all important organs.

The German Heart Institute
in Berlin tested the Lifebridge during elective routine procedures in bypass surgery. The objective of those trials was to demonstrate the quality of the new, portable system compared with a traditional heart-lung-machine. The Lifebridge ran for up to 103 minutes (average: 82 minutes). Under conditions typically found in this kind of heart surgery, with complete cardiac arrest and no ventilation, the machine facilitated sufficient blood circulation to the organs and adequate gas exchange. Therefore, the Lifebridge also can be used pre-emptively during risky cardiac surgery (e.g. high-risk PCI).

In an earlier experimental study at the University of Cologne, cardiac surgery using the Lifebridge was simulated using pigs. The animals' blood gases were kept constant during the entire length of the study. The blood circulation remained constant even when the height difference between the machine and heart was changed. Injection of up to 100ml of venous air also did not reduce blood flow, and even the most disadvantageous conditions did not result in an arterial air embolism (source: Mehlhorn U et al., Ann Thorac Surg 2005; 80: 1887-92).

Gap in supply of technology for the treatment of cardiogenic shock can be filled
Annually, hundreds of thousands of Europeans suffer heart attacks, caused by the occlusion of coronary vessels following coronary heart disease. To avoid death or lasting damage a patient ideally needs to receive treatment within 'the golden hour'. However, according to data supplied by MITRA, Germany's heart attack register, in that country alone, the time lapse between heart attacks and start of treatment is on a continuous increase. Between 60,000 and 65,000 patients do not survive their heart attacks (source: Mark B et al., Dts Aerzteblatt 2006; 103: A 1378). Cardiogenic shock kills around 20,000 people. 'Up to 50% of those patients could survive if they received fast mechanical, extracorporeal circulation support,' points out Prof Zerkowski of Basel University, Switzerland.

Ideally, artificial circulatory support should begin during transfer to a specialised hospital, because vital vessels and organs need sufficient blood supply to avoid irreversible damage caused by hypoperfusion. However, mobile emergency systems are not usually used during a transfer, because currently available equipment does not meet requirements for portability and quick, safe use. 'Filling this gap in the supply is of utmost urgency,' said Prof Ruediger Lange, director of the Cardiovascular Surgery Department, German Heart Centre, Munich, during a symposium held during a market launch for Lifebridge. In specialist centres, heart-lung machines used during cardiac surgery must be set up and run by trained perfusionists. Their size and weight make them unsuitable for mobile use. A patient in cardiogenic shock, according to Lange, needs support for cardiovascular function by a lightweight, fast, easy to use machine, which can be used anywhere.
The situation for hospital treatment is similar. Cardiogenic shock develops in 7 – 10% of all infarctions, and it is unpredictable. In such an emergency, currently, doctors mainly use intra-aortic balloon pump counterpulsation (IABP), left-ventricular assist systems along with conventional heart-lung machines (HLM). However, the former can only be used if the heart muscle has remaining functionality. In the case of acute, complete cardiac arrest, the immediate use of a heart-lung machine is necessary.

Even ultra-modern, percutaneous heart-lung machines, which are connected to the patient's circulation via the iliac vessels during external cardiopulmonary reanimation, can only be used after 15–20 minutes. In addition, because they depend on manual operation, user errors and air embolisms cannot be eliminated.

Therefore, a fully-integrated 'click'n'run' heart-lung support system is an urgent requirement, said Prof Zerkowski.

Lifebridge Medizintechnik AG (founded: 1999) has found a market niche with Lifebridge B2T. With 22 employees, the firm is supported by Bavarian financiers and an investment bank in the United Arab Emirates. It reports that there has already been strong demand from hospitals for this portable heart-lung device, and Manfred Salat, Chairman of the Board, predicts that, as from next year, the Lifebridge should be able to finance further growth internally.