Radiation dose reduction
US launches a national initiative

By Cynthia E Keen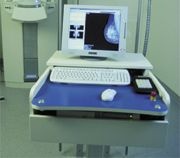 4,000,000 paediatric CT scans were performed in 2006 in the USA, a number that has tripled since 2001. Concerns about the adverse effects of cumulative radiation dose in a generation of children where CT imaging and other radiation intensive procedures will be the norm has led to the launch of a national campaign to establish low dose radiation protocols designed specifically for variously aged children.
The 'Image Gently' campaign was launched in January 2008 by the founding members of the Alliance for Radiation Safety in Paediatric Imaging (ARSPI). The Society of Paediatric Imaging proposed this campaign in 2006, and formed the Alliance in 2007 with the American College of Radiology, the American Society of Radiologic Technologists and the American Association of Physicists in Medicine. An additional six major professional organisations have become affiliate members, representing a total of more than 500,000 medical professionals working in Canada and the United States. GE Healthcare provided a large unrestricted educational grant to fund the project.
The campaign aims to significantly reduce the amount of radiation used when performing paediatric CT scans. It emphasises that children should be scanned only when absolutely necessary, that radiation dose should be reduced using protocols and scanning techniques created specifically for paediatric imaging, and that alternative imaging procedures with less or no radiation should be used when possible. (As an example, the newly published results [Radiology online January 14, 2008] of a study performed at the University Hospital in Bologna reported that contrast-enhanced ultrasound is almost as accurate as contrast-enhanced CT for diagnosing solid organ injuries in children following blunt abdominal trauma.) Medical physicists are also encouraged to become more involved and actively monitor paediatric CT techniques.
The www.imagegently.org website includes a library of protocols for imaging children. In its first week of operation, over 2,600 providers downloaded protocols. The website also contains research and educational materials.
Marilyn Goske MD, chair of ARSPI and a leading paediatric radiologist at the Cincinnati Children's Hospital Medical Centre in Ohio, said, 'We hope to change the way all children are imaged, using kid-size, not adult-size radiation doses.' In an interview with European Hospital, she said that it will take decades to learn if paediatric CT scans are detrimental to the long term health of children who receive them. With the exception of paediatric cancer patients receiving radiation therapy, no records are being kept of the cumulative radiation doses that children receive, which, Dr Goske said, is an issue of discussion by the Society of Paediatric Radiology, as an electronic registry interacting with electronic patient records is technologically achievable.
The fourth bi-annual ALARA (as low as reasonably achievable) Concept in Paediatric Imaging conference was held in February in Orlando, Florida, and was attended by paediatric radiologists, emergency physicians, medical physicists and hospital administrators. Its theme was Building bridges between radiologists and emergency medical providers and focused on improving imaging safety and quality for children presenting in an emergency department. The conference objectives were to discuss the challenges that emergency physicians and radiologists face in overcrowded hospital emergency departments and to identify methods of improving communication, as well as establish better protocols for procedure ordering and imaging of children with the least amount of radiation.
The combination of the threat of litigation with malpractice lawsuits and the fact that many uninsured families use emergency departments as sources for primary care has created an environment in many US hospitals in which an excessive number or inappropriate diagnostic imaging procedures are ordered. This is done to make rapid accurate diagnoses, provide treatment quickly, and deal effective with a higher volume of patients than an emergency department can support.
The 2008 ALARA conference chairs, paediatric radiologist Donald P Frush MD and paediatric emergency medicine specialist Karen S Frush MD, both at Duke University Medical Centre, Durham, North Carolina, said that they hope the meeting will provide a foundation upon which methods of working more effectively together as a team will be initiated. "The majority of children receive emergency treatment at hospitals that primarily treat adults. We think that recommendations for protocols of treatment developed jointly by paediatric emergency specialists and paediatric imaging specialists can provide a safer and better quality of care.'
Dr Goske added that European hospitals have developed impressive initiatives in keeping paediatric radiation dose to a minimum.