ProVision 80
The all in one digital imaging system
ProVision 80, a shared-service colour Doppler all-digital system, provides an all-in-one solution for abdominal, obstetrics/gynaecology, cardiovascular, small parts, paediatric, and musculoskeletal applications, the manufacturer Chison Medical Imaging Co. reports.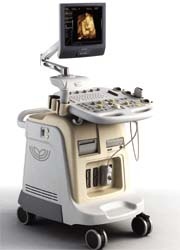 'The innovative architecture of multi-hundred processing channels, matched with high-density probes, provides THI, compound imaging, and ensures stunning image quality without compromising the frame rate.'
The system supports CFM, PW, CW, Colour-M, TDI, Panoramic, 3-D, ECG, DICOM, and comprehensive cardiac, vascular, and OB packages, and, the company adds: 'A workflow-oriented user interface, front-loading DVD & USB, floating keyboard, 360 degree-adjustable LCD, and four active probe connectors, all of which makes the ProVision 80 a state-of-the-art imaging system.'
* For the past decade, Chison Medical Imaging, based in China, has specialised in the development & manufacture of ultrasound systems, now producing 8,000 systems annually. The firm is ISO & CE certified by TUEV in Germany and, in the USA, is FDA approved.
More on the subject:
More on companies: