compact & clever
Premium Portable Ultrasound
Konica Minolta, leading company in the medical imaging market, introduces its Premium Portable Ultrasound solution, Sonimage HS1.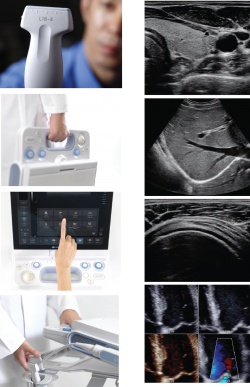 Sonimage HS1 completes and strengthens the product portfolio of Konica Minolta Healthcare, confirming the commitment of the company in the Medical Imaging field, in coherence with its philosophy:
Always delivering the highest diagnostic support, without compromising on performance;
Attention and care for the needs of the customers.
Premium Portable Ultrasound
As Premium Compact Ultrasound System, Sonimage HS1 is specifically designed to combine best-in-class image quality and ease of use with high mobility; bringing the highest diagnostic confidence anywhere, anytime.
Premium performance
Real ease of use
Mobility
Clinical Benefits through Innovation
Through the most innovative technological solutions implemented in this compact ultrasound system, we would like to highlight 3THI (Triad Tissue Harmonic Imaging) and real 18 MHz imaging, supported by Konica Minolta's Micro Multiple Matching Layer Technology. This technological combination, unique in this class of systems, guarantees an extraordinary image clarity and resolution through the whole picture, from shallow to deeper areas.
The innovative approach of its user interface, combining the advantages of a simplified console (with the most frequently used functions always at reach) and the Touch screen technology implemented on its 15" IPS LCD monitor, make Sonimage HS1's premium performance easily accessible for a large variety of ultrasound users; from general practitioners to MSK specialists, from hospital departments to private praxes.
SNV Simple Needle Visualization
We care about operators' confidence during interventional procedures and have developed the Simple Needle Visualization (SNV) technology. SNV is an extraordinary tool that, without any loss in the B mode image quality, highlights the visibility of the needle shaft and tip.
Dedicated solution for interventional procedures
Enhances the needle on the ultrasound image, so you can see it more clearly
Supports both in-plane and out-of-plane procedures
Seeing the needle tip clearly enables safer and more efficient procedures
Rheumatoid Arthritis Workflow
Based on the DAS28 protocol, Konica Minolta has implemented the Rheumatoid Arthritis Workflow: the unique integrated software tool supporting rheumatologists for clear and thorough ultrasound-based assessments.
Made in Japan
Sonimage HS1 and its state-of-the-art transducers are proudly designed and manufactured by Konica Minolta in Japan. We continuously strive to develop cutting-edge technologies and realize our mission of providing you with the highest performance and reliability.

Source: Konica Minolta
More on the subject:
More on companies: