MEDICA 2015
Power and impact of visual solutions
This year at MEDICA, Sony Healthcare Solutions builds on its position in the market as a leading provider of medical imaging technologies. Sony will demonstrate the power and impact visual solutions have in the world of medicine, from pre-operative diagnosis and the latest 4K surgical imaging through 4K over IP distribution up to education, post-surgical review and long archive storage.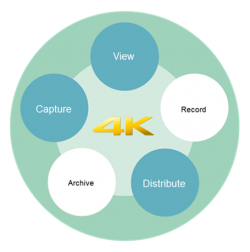 Demonstrations on Stand H57 in Hall 10 will highlight how Sony leads the way in 4K and its plans to offer the healthcare market a complete 4K end-to-end solution. The stand will highlight solutions from across the Sony portfolio, showcasing not only Sony's capabilities in 4K but also the latest Full HD and 3D surgical imaging technologies for both diagnosis and surgical use, the efficient distribution and management of medical content, through to education, post-surgical review and storage.

Highlights from the workflow include:
Capture

•Affordable micro-surgical images: The MCC-500MD was introduced to strengthen Sony's micro-surgical workflow and line-up of imaging technologies; the medically certified Full HD single chip camera 1/2.9-type Exmor™ CMOS image sensor gives medical professionals an economical entry into HD quality. The camera has multiple video outputs to fit a range of medical environments, with HDMI, HD-SDI (1080p), S Video and Composite video connectivity. Sony will also display at the show its first 4K sensor prototypes.

• Increasing operational efficiency with 4K over IP workflows: The introduction of 4K highlights concerns over bandwidth and network capabilities. At MEDICA 2015 Sony will show how its 4K IP workflow overcomes these challenges to efficiently share from multiple sources highly detailed, uncompressed images using its ultra-low latency IP technology. Sony will highlight how it is developing a 4K workflow which makes it possible for any hospital to upgrade to the latest in imaging technology. The 4K workflow, designed to work over IP across any existing network, can provide hospitals with detail when it matters most, from the image sensors inside the latest 4K endoscopy cameras, 4K surgical monitors, to a 4K recorder. The 4K content can then be distributed over the network to Content Management Systems, or one of Sony's 4K B2B Displays for post-surgical review or teaching in conference or lecture rooms.

• Multiple streaming outputs from Remote and Video Conferencing cameras: in addition to the above 4K over IP presentation, visitors will see the latest range of AV solutions to complete the hospital and clinical workflow. This includes Sony's new remote capable cameras (SRG Series) and video conferencing systems to capture and share high quality images with simultaneous streaming via IP, 3G-SDI and HDMI.

View
•Detail when it matters most: Sony will showcase for the first time in Europe its two new 4K medical-grade monitors, the 31-inch (LMD-X310MD) and 55-inch (LMD-X550MD) models which deliver a screen resolution four times that of Full HD. Ideal for minimally invasive surgery, the wipe clean OptiContrast Panel™ boosts contrast and reduces glare, and together with Advanced Image Multiple Enhancer (A.I.M.E.™) technology, ensures detailed and high contrast images, unprecedented in medical imaging.

• Immersive 3D endoscopy: Demonstrating a new dimension for endoscopy, Sony's crowd-drawing HMS-3000MT Head Mount Display System has been recently updated, offering surgeons a fully immersive view of video from 3D camera systems. These enhancements are the result of constant dialogue between Sony and Europe's medical community, helping to drive forward product development in 3D image quality and viewing comfort.

• Projection and display solutions: Sony's medical solutions aren't only applicable to operating rooms. At the show, Sony will demonstrate how it can help any facility to display content for all types of audiences outside of the OR, from AV solutions to broadcast equipment for live surgeries, to deliver truly engaging and inspiring presentations. The range includes Sony´s latest B2B projectors and the breakthrough presentation solution Vision Presenter using the BRAVIA 4K Professional Displays. In partnership with GE, Sony will also showcase the GE Vivid E95 system in the Radiology & Ultrasound section, featuring a ground-breaking High Definition 2D OLED display and 3D U/S for use in high-end ultrasound applications.

Record
• High Quality for still image capture and video recording: The unique capabilities of the HVO-500MD surgical recorder will be on show, displaying to the market Full HD surgical recording solution, ideal for capturing still and video content for patient records or surgical post-operative reviews and teaching.

• Hassle-free wireless printing: This year Sony shows its continued dedication to the medical print and print media business with over 30 years of heritage with the demonstration of our new wireless system, enabling printers for cable free and hassle free printing that are ideal for hospitals short of space within their surgical stacks.

Distribute and Archive

• Efficient use and storage: Visitors will be able to explore our content sharing and archiving capabilities with our 4K Content Management System (CMS) to manage the content and ODS-D77U optical disk archive for long term archive purpose, ideal for those who invest in medical recording devices such as our HVO-1000MD surgical recorder, and discuss with our solutions team how to manage the flow of content across a networked infrastructure.

"With innovative medical technology moving forward at a rapid pace, it's an exciting time for the medical industry. Our product development reinforces Sony´s commitment to deliver powerful and impactful visual solutions to the world of medicine and become the medical solution partner of choice. At Sony, we're constantly striving to produce creative solutions at the forefront of this market and we're looking forward to showcasing our latest workflow demonstrations at MEDICA 2015," said Christophe Gauthier, Medical Strategic Marketing Manager at Sony Professional Solutions Europe.

For further information about Sony's innovations in the medical sector, please visit, Hall 10, Stand H57 or visit www.pro.sony.eu/medica.

Source: Sony