POC-System
Point-of-care ultrasound shows promise for Osgood-Schlatter diagnosis
Dr Ralf Doyscher, from the Department of Sports Medicine at Charité – Universitätsmedizin Berlin, has a close association with soccer at both professional and amateur levels. He recently participated in a scientific project focusing on preventative check-ups for the general health of elite young soccer players, and took the opportunity to simultaneously investigate the potential of point-of-care (POC) ultrasound for the diagnosis of Osgood-Schlatter disease in this group.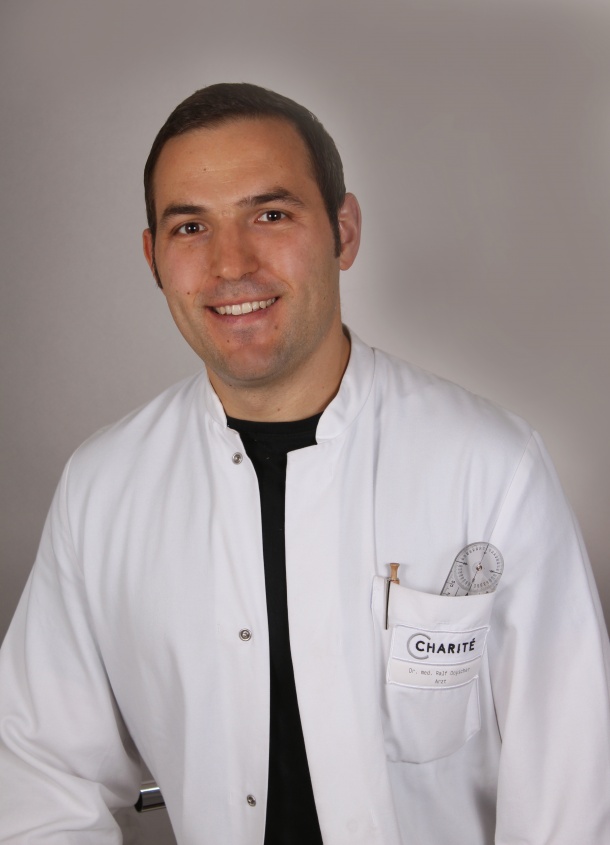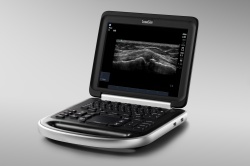 Osgood-Schlatter disease is a developmental disorder that causes musculoskeletal problems and is rare in the normal population. However, the condition is more common in teenagers who play sport, affecting an estimated three to five percent of this population; it causes painful inflammation below the knee in adolescents and can lead to permanent soft tissue damage. The condition is often diagnosed by MRI, which is both costly and impractical for screening purposes.
The sports medicine team at the Charité was asked to perform a general health check on young players enrolled in its support programme, and this was an excellent chance to study the potential of POC ultrasound as a screening tool to identify players who might be suffering from Osgood-Schlatter. Ultrasound is an excellent tool for this type of screening application as, unlike other imaging modalities, it's quick and cost-effective, and can be performed almost anywhere. Equally importantly, most sports medicine specialists now have access to portable and robust POC ultrasound systems, which have become a mainstay of sports medicine practice in recent years. We screened almost 400 players between 12 and 14 years old, and identified six youths with patella tendon pathologies indicative of Osgood-Schlatter. In each case we were able to observe some degree of inflammation of the patellar ligament at the tibial tuberosity, all of which were later confirmed by MRI. Although this is only an initial study the findings indicate that ultrasound is well suited to screening for Osgood-Schlatter disease.
Robust POC ultrasound systems – such as the FUJIFILM SonoSite Edge® system used for this study – offer a convenient and cost-effective alternative to MRI for screening activities, and I believe this approach could benefit young players in a number of other running sports. This trial is also a good example of how POC ultrasound is changing the way we approach many injuries and conditions in sports medicine. It is becoming a 'must have' tool, and is ideal for the diagnosis of muscle tears and soft tissue injuries, replacing the need to use other modalities in many cases.
We obtained our first POC system around five years ago, and we now use ultrasound for almost every patient. The use of ultrasound guidance has also significantly improved the effectiveness of many therapeutic injections, particularly for modern medications such as platelet-rich plasma or hyaluronic acid. The injection must be very close to the site of the injury for these treatments to be effective, and ultrasound allows you to safely and accurately locate the optimal injection site. This is a real advantage and, within our department, over 90 percent of the injections we perform are done under ultrasound guidance. Whether you are using it for screening, diagnostics or to guide treatment, POC ultrasound is an excellent tool for sports medicine, where you are always under pressure – from patients, their coaches and their physiotherapists – to provide answers and results as quickly as possible.
About FUJIFILM SonoSite, Inc.
SonoSite helped pioneer the concept of portable, point-of-care ultrasound, and it continues to be a world-leading manufacturer and innovator of bedside ultrasound systems as well as an industry leader in ultra high-frequency micro-ultrasound technology. Headquartered near Seattle, the company is represented by 26 subsidiaries and a global distribution network in over 100 countries. SonoSite's portable, compact systems are expanding the use of ultrasound across the clinical spectrum by cost-effectively bringing high-performance ultrasound to the point of patient care. For more information, go to: www.sonosite.com/de.
FUJIFILM Holdings Corporation, Tokyo, Japan, brings continuous innovation and leading-edge products to a broad spectrum of industries, including electronic imaging, digital printing equipment, medical systems, life sciences, graphic arts, flat panel display materials, and office products, based on a vast portfolio of digital, optical, fine chemical and thin film coating technologies. Fujifilm is committed to environmental stewardship and good corporate citizenship. For more information, please visit www.fujifilmholdings.com.
Source: © 2017 FUJIFILM SonoSite, Inc. All rights reserved.
More on the subject:
More on companies: