PACS aids Czech cancer crusade
The Masaryk Memorial Cancer Institute (Masarykúv onkologick´y ústav - MOÚ) in is unique in the Czech Republic, for it covers all aspects of cancer care, provides medical training plus public health education, and participates in research. Around 180,000 outpatients and about 7,000 in-patients are treated annually.

By Pavel Andres MD, Deputy Director of Medical Preventive Care at the Masaryk Memorial Cancer Institute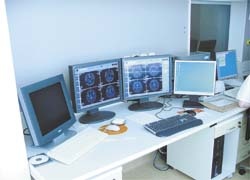 Based on data from the national oncology register, the institute's specialists have developed a unique, complex prevention programme to cover all age groups and assure that those examined do not suffer a malignant disease. MOÚ's Department of Epidemiology and Genetics also attends to those with a family history of malignant disease.

Novel chemotherapeutic regimens and application techniques are frequently introduced here, to increase chances of recovery. MOÚ also participates in numerous international clinical trials, studying the effects of new cytostatic drugs and therapeutic combinations, e.g. chemoradiotherapy.
The latest cancer surgery (e.g. the sentinel lymph-node biopsy, radiofrequency ablation), and radiotherapy (e.g. adjuvant brachyradiotherapy for breast cancer) are also performed. The radiology department has a digital mammograph, to more accurately diagnose breast lesions.

The pharmacy uses special equipment to dilute and prepare individual chemotherapy doses for each patient.

Without needing physician recommendations, patients from other facilities can have outpatient medical consultations to provide second opinions, as well as diagnosis and treatment discussions.

Currently, 25 modalities and 60 PACS workstations are connected to the institute's PACS, which was first launched in 2002 with two digital modalities (computer tomography, digital mammography) and four PACS workstations. A Communication PACS Server enables transfer of PACS images from other institutions, and an Educational PACS Server is used to archive interesting images for educational purposes.