Sponsored • Sample processing
One second, one tube
As the leading supplier for tube identification and sorting devices, ASP Lab Automation AG designed the new generation of their tube sorter ASP SortPro for a throughput of 3.600 tubes per hour.
The new benchmark for bulk sorting
Automation in the entrance area of clinical labs seems to be a simple task. Processing one tube per second makes a high-tech application out of it. Every second a tube is forwarded form the bulk loader to the scanner. 60 times a minute the scanner identifies a tube, sends the data to the LIS and 3.600 tubes are sorted into the correct target bins within one hour. A full new construction of the whole device was required to double the speed in comparison to any other tube sorter.
Latest sensor technology
Beside the mechanical challenges the key unit for such a high-speed setup is the detection unit. It is no longer based on slow barcode readers and spectrometers but uses a high-speed HD-Camera and intelligent image processing algorithms. Within milliseconds a picture of the tubes is made and evaluated. The conveyor belt transporting the tube through the machine does not even stop for this job, which has been the bottleneck of tube sorting for two decades.
Countless sorting criteria and specimen selections
With the new detector technology SortPro overcomes the limitations of sorting criteria known from old-school-sorters. What human eyes can see, can also be detected by the image processor on the HD-photo from the tube. ASP SortPro can detect code rings on the caps, read tiger caps, recognize different tube types and it can even separate centrifuged tubes from those what have not been centrifuged. Is it a challenge for your staff to keep in mind all the different types of specimens processed in your lab by these codes with the different sorting criteria? That is not a problem for SortPro. It can learn and detect much more criteria selections than you will ever need.
Flexible integration in your working routines
This new detection technology is not only much more detailed than ever before, it is also a very robust application which makes it very easy to edit new tube types to be selected or to create new sorting rules. Off course we will do this job for you when setting up a device in your lab for the first time. But afterwards you will be able to adjust the sorting criteria and rules to any changing needs on your own without calling for our service crew.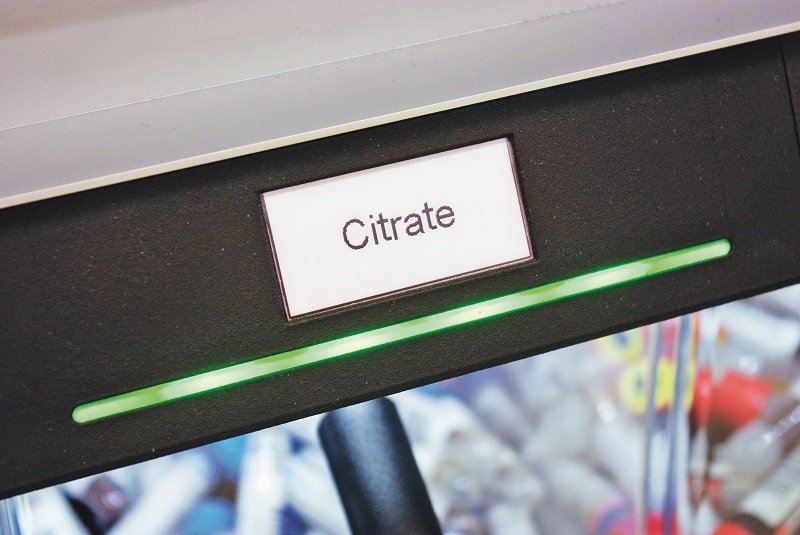 Time saving design
On this new performance level SortPro runs continuously and keeps on sorting, while a target bin has been removed from the device. It also helps your staff to focus on other jobs rather than to operate the sorter. For every target bin it displays in clear words what is collected here. It works independent and sends a SMS to the staff, whenever human operation is required. One view on the device is enough to check the status of all target bins, any other request is displayed in clear words on the big touch screen.
Fast lane for urgent tubes
If you have such a fast unit in the lab, there is no need to register urgent specimens manually. Just put them in to the entrance for urgent tubes and they will be the very next tubes to be processed. Five urgent tubes? Sorted, registered and back in your hands in half a minute!
Smooth tube operation
To be fast also means to reduce any mechanical impact to the processed tubes. Every mechanical step has been optimized for a smart tube operation. That makes SortPro fast, silent and smooth for the specimens. Remarkably, the sorter that handles tubes twice as fast as any other, operates them smoother than ever seen in a bulk sorter.
More input required?
You have read all the text until here. Thanks for your attention, you seem to know the importance of this very first step of automation in your lab. For more details about state-of-the-art sorting in clinical lab please contact us or download the catalogue here. We are looking forward to supporting you. Worldwide by ourselves or our qualified distributors.
Contact:
ASP Labautomation AG, Elmshorn, Germany,
+ 49 4121 264 731 0
info@asplabautomation.com
Source: ASP Labautomation AG
More on the subject:
More on companies: