Sponsored • High-performance tube sorting
Easy access: The new lightweight target bin with permanent display
More than 16 years of experience in the complex matter of workflows within clinical labs leads to the latest generation of ASP SortPro tube sorter.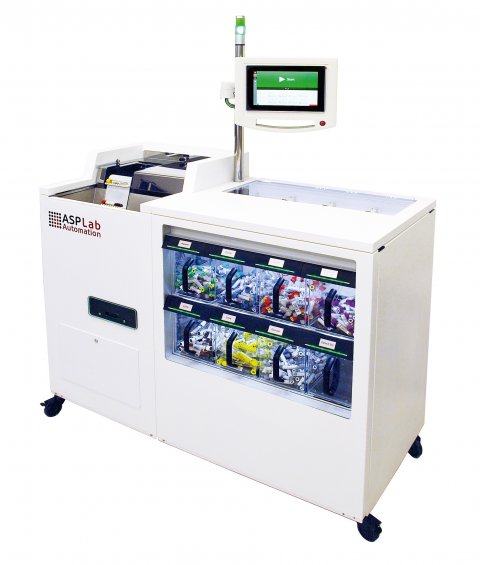 To make the investment in sorting devices efficient, these must be integrated perfectly into the workflow. The ASP team sold hundreds of tube sorters to clinical labs and hospitals worldwide. In all these installations the German engineers have accumulated deep knowledge about the workflow in clinical labs. This experience is an integral part of the specification for every new generation of ASP SortPro tube sorter.
While ASPs innovation last year focused on software tools to ­optimize the workflow and data integration into the LIS, ASP's 2019 product release combines these digital benefits with a completely new device fulfilling all the customer demands. This comprehensive update requires a relaunch of the hardware.
This comprehensive update requires a relaunch of the hardware. A high-resolution camera and advanced image processing software are used to identify the processed tubes. It recognizes barcode, cap colour and tube type (manufacturer and size) within milliseconds. This powerful detection unit speeds up the sorting process to more than 3,000 tubes per hour without any change in the proven soft handling of the tubes through the sorting device. The pictures of the tubes can be inspected at the device and are available for export and documentation purposes of processed samples.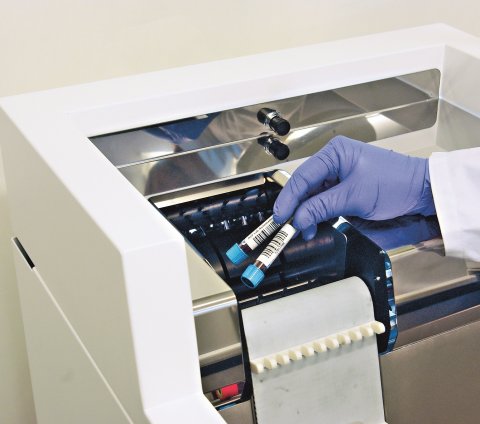 The new design of the specimen hopper ensures no tubes remain in the hopper by accident. It also detects if the hopper is empty and when tubes are filled into the hopper. The priority input allows urgent specimens to bypass the hopper and to be processed immediately without stopping the standard process.
SortPro can sort bulk, fill analyser racks or hand over tubes to track systems or analysers. Each specimen is identified, registered in the LIS and sorted by internal sorting criteria or input from the LIS. ASP SortPro selects and separates tubes for manual handling while the majority of tubes are sorted for standard processing. Doublets are detected and can be handled individually. With its touch screen and modern user interface, the device is easy to use. Functions to manage and edit sorting rules make sure the device can be adapted to changing requirements at any time.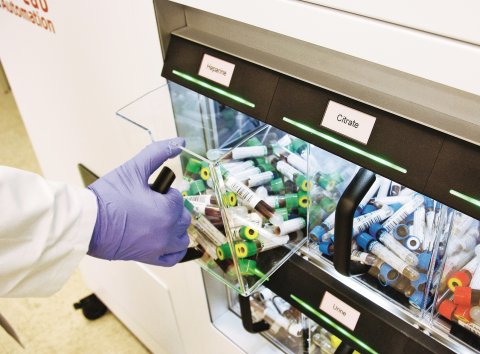 The system works basically without human intervention. If staff is required, the integrated process management sends a text message to the person in charge. Maintenance and service tools guarantee maximum availability and minimum operating costs. ASP SortPro does not only register, sort and document your ­specimens – due to its comprehensive integration into the workflow, it constantly improves the efficiency of your lab.
More on the subject:
More on companies: