Full HD
Next generation of wireless technology: ZeroWire Mobile
At Medica 2015 NDS officially unveiled ZeroWire Mobile. This patent-pending integrated cordless display solution combines 4K image clarity with wireless mobility in a self-powered system.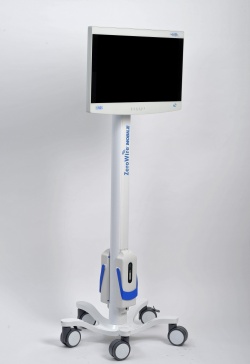 Utilizing a discreet wireless transmitter and receiver built into NDS's Radiance Ultra surgical displays, mounted on a specially designed roll-stand, the ZeroWire Mobile solution delivers full HD video wirelessly with complete freedom of movement within the operating room. A dual-battery source is engineered with a wall-mounted two- or four-bay battery changing system providing hot-swap capability for extended operational requirements. It eliminates cables, which represent a potential tripping hazard, and helps enable greater room efficiency through ease of movement and re-positioning. Karim Khadr, President and General Manager, said at the presentation: "We are very excited. NDS has always been a company of first. First flat screen, first LED backlight and now the wireless full HD display."
Designed to co-exist with other medical and non-medical devices, ZeroWire G2 utilizes a wide frequency spectrum out of the range of equipment such as electro-cautery. Darko Spoljaric, Vice President of Global Marketing pointed out: "We are driven to innovate new technologies that give clinical teams the flexibility, ease-of-use, and time-saving efficiencies they are looking for in critical care applications. We are confident that the new platform will become the adopted standard by facilities that see the value of imaging mobility while eliminating cables and wires."
Furthermore NDS unveiled a large 32" display of the Radiance Ultra family including 4K (3840 x 2160 pixels, Ultra-HD) resolution, offering superb image clarity. The Radiance Ultra TrueColor 32" display features Ultra-Wide-Gamut technology, broadening the color spectrum for more life-like images. Spoljaric summarizes: "It's not about resolution. It is also about color recognition. We want to improve the visibility."

PROFILES:
Karim Khadr has been President and General Manager at NDS since November 2014. Previously, he served as Senior Vice President of NDS's Surgical Business Unit worldwide. He has over twenty years of general management, executive marketing, business development and sales leadership experience in the medical and diagnostic device industry, primarily in minimally invasive settings. Mr. Khadr holds a BS and MBA in Finance from the Kelley School of Business, Indiana University.
Mr. Darko Spoljaric is Vice President Global Marketing at NDS Surgical Imaging. He joined NDS Surgical Imaging (NDS) in 2015 and is responsible for overseeing the surgical business worldwide including strategic marketing, product management, and business development. Mr. Spoljaric holds an Executive MBA in Management, Marketing and Related Support Services from the University of Washington and a BA in Interdisciplinary Studies from Marylhurst University.