New service contracts for reprocessing endoscopy systems
New service agreements for reprocessing of endoscopes: CDS Care and CDS Care+ also cover maintenance and validation of ETD Double reprocessing systems
Smooth, flawlessly running reprocessing systems ensure regulatory hygiene standards as well as the constant availability of all endoscopes. To this end, along with the established Partnership and Complete Coverage Contracts for endoscopy, Olympus Deutschland GmbH has developed CDS Care and CDS Care+ Contracts and a Validation Service.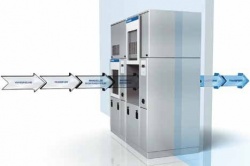 Olympus Partnership and Complete Coverage Contracts are powerful tools for the all-around security of endoscopy systems, including maintenance, repairs and, depending on the type of contract, supplies. Thus, endoscopy teams can gain significant time to concentrate on their main tasks.
This service is now extended to reprocessing. CDS stands for Cleaning and Disinfecting Systems. The new CDS Care Contract comprises maintenance, repairs and also validation of Endo-Thermo-Disinfection (ETD) systems.
The contract is available as CDS Care Standard or CDS Care+ and consists of different modules.
The validation considers systems control and performance control, Dominik Adams, Head of Medical Service at Olympus points out. 'The advantage is that Olympus, as a system supplier, can also measure additional parameters.'
Well protected: CDS Care
The standard form of CDS Care provides basic coverage for the systems. It contains maintenance planning and execution, including all wear and tear parts listed in the service manual, e.g. tubes or dosing pumps, and also transportation and labour costs. Additionally, Olympus provides a cost-free technical hotline, keeps the systems up to date with the latest software and offers the possibility of error diagnosis and treatment via remote maintenance, depending on the communications infrastructure of the respective hospital.
Validation included: CDS Care+
The CDS standard agreement is expandable. By signing a CDS Care+ contract, customers can choose the option of full coverage of service costs by Olympus. This also implies - in the worst case of repair - the provision of rental machines and transportation of the damaged ETD systems. Another option is the validation of the reprocessing machine according to currently valid regulations by Olympus' Mobile Medical Service.
This consists of the inspection of cleaning capacity and microbiological testing of the rinsing water, providing certified assurance for the customer. Two more modules consist of training for in-house medical technicians, provided either at the hospital or Olympus' premises. In both cases basic technical knowledge and error diagnosis are also part of the contract and covered.
Comprehensive protection through qualified service
Within the CDS Care Contracts, now including reprocessing, the best entry into this new range is the Basic Contract, which enables hospitals to protect some of their systems for the limited period of one year, thus experiencing the advantages of a service agreement without any risk or long-term commitment, Olympus points out. Those wanting comprehensive protection of their budgets from the beginning can choose the well-established services of a Partnership or Complete Coverage Contract.

More on the subject:
More on companies: